LGBTQ open mic night: 'We don't clap, we snap'
March 30, 2017
As silhouettes filled the room, Ashleigh Wilber proceeded to the spotlight to recite her own poetry for the first time.
Tuesday's open mic night featured several new performers. Students gathered in the SU room 107 to support LGBTQ pride week.
"I have always read other people's work for them, but never my own," Wilber said. "It felt good to be proud of who I am and speak about something that has weighed on me my whole life."
Wilber, a sophomore human resource management major, opens up about an abusive relationship in her past. She was nervous, but excited to finally be proud of the past she has overcome.
Open mic night, created in the fall of 2016, has drawn attention to almost double the amount of students on NKU's campus, according to Morgan Bell.
Bell, NKU alumni, and Bonnie Meyer, director of LGBTQ Programs and Services, worked together in creating open mic night.
"We did this so people had a forum to represent themselves and not feel ashamed of who they are," Bell said. "This is all about being you."
Bell, arts and integrative studies graduate, participates in open mic nights across Northern Kentucky to reach out to others. She said her dreams of being a poet has reached new heights — to inspire others to be confident.
"Everything I write is something that has really happened to me," Bell said. "When people get up there they are vulnerable. I feel like this helps me understand myself better."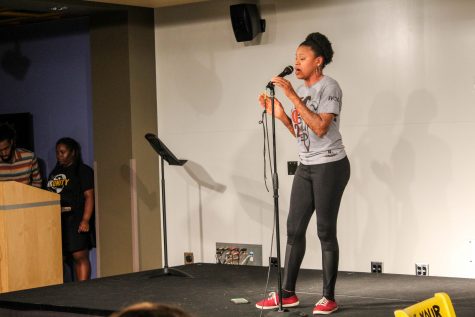 Meyers said her goal is to improve NKU inclusiveness throughout the campus in a previous interview with The Northerner.
"We're a community where we welcome everyone, regardless of race, religion, ethnicity and sex," Meyer said. "People are afraid of what they don't know or what they've never had experience with, so all the work we do is about bringing awareness to the needs of the whole community, which can be tricky with intersectionality and the overlapping identities we have."
BELOW: Ashleigh's Wilber's poem, as read during Open Mic Night, titled, "The beginning, retitled remember"
When you meet him, you will breath him in like it's the first time you've tasted oxygen after being underwater.




Do this, but remember that you are not underwater anymore.

When you kiss him, it will set your body on fire.




Remember that you are gasoline.




This ends in explosion.

When you love him, you will start to bend your spine into a question mark because you think that he is the answer. He is not, you are.

The first time you wake up with your pants halfway down your thighs, do not think that is your job to help him find his way in. Your body is sacred and he is not holy.

When you find your self worth at the back of his throat, remind yourself that it's only natural for him to swallow it.

When he promises you everything, remember that he's referring to what he's taking from you.

When you shrink yourself to fit into his shadow, remember that you are more than his. You are more that what he paints you. You are the only one you belong to.

When you inch your way away from him, remember that he will fill that space with somebody else's body.

Remember that this is a hurricane, a flash flood, but you are on higher ground, watch the rumble pass you by. Remember your place.

When you see him again, take his hand in yours, smile. Tell him it's nice to meet him. This was rebirth; he does not know you anymore.