NKU actress reflects upon her professional stage debut
March 19, 2017
On opening night, Kearston Hawkins-Johnson stood on stage in front of a crowd of people. In the Know Theatre of Cincinnati, located in Over The Rhine, Hawkins-Johnson could feel her heart pounding.
She was making her professional acting debut as the lead character in "Dragon Play."
"I felt shivering in my bones," said Hawkins-Johnson, a junior acting major. "My heart was literally pounding and shaking. I was so nervous."
As the play went on, she said she remembered becoming less nervous as she immersed herself into the character.
"Dragon Play" was about a teenage boy and a dragon falling in love in rural Texas. Hawkins-Johnson played the role of 'Dragon Girl'.
Hawkins-Johnson, a Cincinnati native, has been acting since she was a child. After her mom noticed she enjoyed acting, Hawkins-Johnson said she started performing in summer camps and elementary theater plays.
She continued acting throughout high school, and then moved to Washington, D.C. to study acting at Howard University. Later, she was forced to withdraw and transferred to NKU after moving back to Cincinnati.
When she came home, she found out about "Dragon Play" and was instantly interested in it.
The Audition
Hawkins-Johnson said she already knew about the Know Theatre because she attended previous shows there. She said she heard about auditions for "Dragon Play" from friends and was interested because of the play's director, Tamara Winters.
"I felt like I over-prepared." Hawkins-Johnson said. "But the environment was very welcoming. Everyone involved was very friendly. I didn't feel like there was an overly serious environment."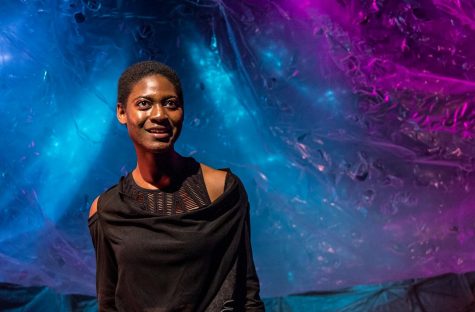 Winters has been the associate artistic director at the Know Theatre since 2015. "Dragon Play" is her latest play which she also served as casting director.
Winters said she was impressed by Hawkins-Johnson's ability to hold her own with the other, more experienced actors and actresses auditioning for the play.
"What stood out was her presence," Winters said. "She had this full body physicality that is not present in young actors. Most were focused on their lines, but Kearston brought a physical presence to the role."
Opening Night
"Dragon Play" opened on, Jan. 27. For Hawkins-Johnson, she said this was the chance to prove her skills she learned over the years.
"I was putting myself at a higher standard and what I learned over the years at a higher standard," Hawkins-Johnson said. "Being in a cast with such brilliant actors was nerve-wracking. But it was so much fun."
With this being her first professional play, Winters said she knew there would be some nerves from Hawkins-Johnson.
"Every actor has some measure of opening night jitters," Winters said. "I could tell there were a little in her. What I do is write every actor a personal note. One last boost of confidence for them before the show starts."
Once Hawkins-Johnson was on stage, Winters said she didn't sense any nerves from her.
Growing as a Person
Hawkins-Johnson said she found the role of 'Dragon Girl' to help her grow as a person.
"The character 'Dragon Girl' is an intense creature who loves so much about the world. I take that with me as 'Kearston,'" Hawkins-Johnson said. "She's so in the moment, she's so curious about the world and loves people very deeply and I want to inhibit [inhabit] that in my life."
Her first professional acting role also helped her to understand what she needs to improve, she said.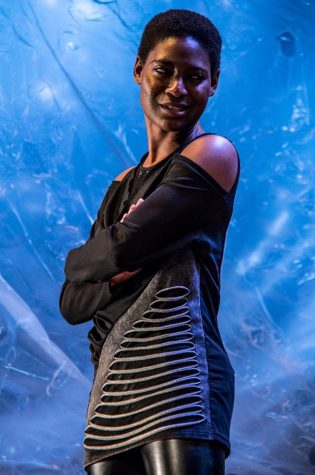 "I've learned my weaknesses. I know I'm hard on myself because I want to be best actor I can be," Hawkins-Johnson said. "But I shouldn't push too hard on myself because I'm young and growing. I need to allow myself to appreciate how much I've grown instead of seeing what's insufficient."
The Jump to Professional
Hawkins-Johnson said there was a difference between acting in a school play and a professional one.
"In college you can fail. It's still a learning environment." Hawkins-Johnson said. "Professionally, you're getting paid and there is a higher standard. I put a lot of pressure on myself to take it more seriously."
Winters said Hawkins-Johnson had a sense of how to be nuanced in her performance.
"Subtle changes in someone's acting could change the entire story," Winters said. "She's a smart actor. She understood how to move the story along through subtle acting."
Hawkins-Johnson said somewhere in the audience, influential people watch as the performers are unaware. She said that if anyone "special" was watching, then they weren't going to reveal themselves.
"There are critics, theater experts and patreons who put money into theatre companies." Hawkins-Johnson said. "You never know who's in the audience."
She said that if anyone "special" was watching, then they weren't going to show themselves.
Closing Night
The show ended on Feb. 18. It was her final night in the role. Her final opportunity to bring the character to life. She told herself to leave it on the stage.
"Just let Dragon Girl live," Hawkins-Johnson said. "I tell myself every performance, this will be a better performance."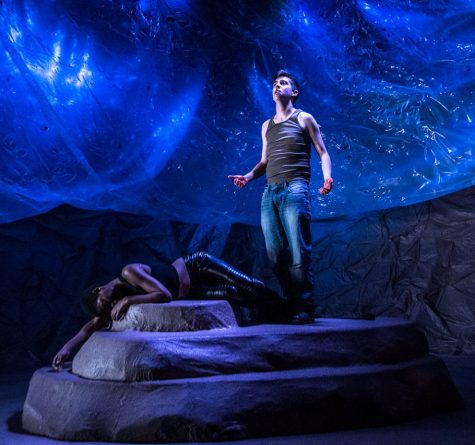 Once again, she said she felt nervous going out there in a packed house. She had the support of her family with her along with people she never knew who bought a ticket to see her perform.
"After we bowed, I cried backstage, thanking everyone for the opportunity," Hawkins Johnson said. "It allowed me to sink in that it was my debut. I spent the first seven weeks of 2017 dedicating myself to creating this character."
What's Next?
With her first play now over, Hawkins-Johnson isn't taking a break from auditioning or acting. This April, she will be involved with NKU's School of the Arts Yes Festival. She will be performing in "Human Services", a play that deals with mental health, homelessness, gender identity and more.
She said that she is already looking to gain more acting credits over the summer, but she's keeping her lips sealed on which roles she's auditioning for. She said this is a way of staying ahead of the competition.
Winters also said she hopes to work with Hawkins-Johnson and the cast again in the future.
Hawkins-Johnson said she is looking forward to other opportunities, but is grateful for the moment she has now.
Of all the things that make up this seven week experience, Hawkins-Johnson said she will miss the cast the most.
"We spent every day together," Hawkins-Johnson said. "They were great people. I hope to work with every one of them at Know Theatre again."