Behind the curtain of 'All Shook Up's' production
February 14, 2017
Twenty feet high and ten feet wide, LED panels hang high above the stage of Corbett Theater. Before they switch on, these lights might not look appealing, but after the tiny bulbs are ignited, the environment is transformed from a theater to a concert.
A new musical comedy, "All Shook Up", is inspired by and features the songs of Elvis Presley. It tells the story of a small town girl whose life is shaken up by a mysterious, guitar-playing stranger. Together, they help a town discover the magic of romance and the power of rock 'n' roll.
LIGHTS, camera, action
The combination of LED lights, rock 'n' roll classics and an entertaining script amount to "All Shook Up," a contemporary production on NKU's campus.  
Brian Robertson, the director of "All Shook Up", said these panels are programmable so they can change colors and be synced to the music, therefore bringing more energy and entertainment to the piece.
Video can also be produced through the panels; the images that the crew recreated are back-lit, forming silhouettes that move like film, according to Robertson.
"It's exciting for us because it's a new technology that we're experimenting with that has never been used here before," Robertson said. "There has been some troubleshooting what it's capable of doing and how to set up it up so that it's strong and visual to the audience."
Robertson said they have been discovering how the panels should 'feel' with a specific song.
"We have to think 'what should this panel look like, what is the background, what kind of lighting and shapes do you want it to do and how do we find that balance?'" Robertson said.
It's important for the musical numbers to sync with the LED lights, otherwise the flow will be disconnected, Robertson said.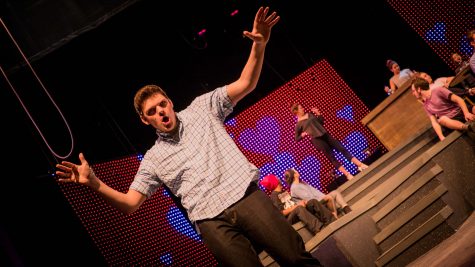 Using the panels will also transform the piece from a musical to a concert, which is the focus of the cast.  
"Instead of trying to place it somewhere like a town or a city, we've actually set up the stage as though you're going to a concert, Elvis' concert," Robertson said. "So having the band on stage added with the light show really aides to what we're going for."  
Can't fight the urge to jive and hip-swivel
Fans and bottles of water will be lined up off stage, ready for the performers, who wore themselves out dancing and singing
Xander Wells, who will be playing Chad, the mysterious stranger, said those precautions are needed, just in case one of the members faints or gets dehydrated.
"Because of the acting, singing and dancing it's the most athletic production I've ever been a part of," Wells, a junior BFA musical theater major, said.  "Having to sing and belting out rock notes while you're dancing is tough. There's multiple numbers where afterward I have to go off and immediately chug water. It's terrifyingly awesome. It's part of the thrill of theater."
Another thrill that Wells is anxious for, is getting to play his guitar.
"I'm really excited for the music; it's Elvis," Wells said. "The songs are going to be rocking. But it's not just his stuff, the arrangements are different and they're really cool. Some parts I get to play guitar, which is really who I am. I just love rock n' roll and classic rock, so this was right up my alley."
Wells said that because Chad is a musician who carries his guitar with him from place to place and puts on an act for whatever town he is traveling to, he can relate to him.
"That's me; I play guitar and I sing at bars," Wells said. "I've always been that guy, the stereotypical kid playing guitar in high school. So, I feel that."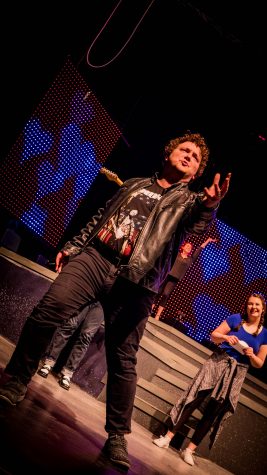 Melissa Cathcart, who will be playing the lead role, Natalie, is also excited for Elvis' work and the theme of a rock concert.  
"I really hope the audience enjoys listening to it, as much as we enjoy performing it," Cathcart, senior BFA musical theater, said. "It's vocally challenging to a lot of people on the cast and we're working really hard to make it tight, let alone get it right with the choreography as well.
We have killer harmonies though, we are going to bring the roof down."
With a compilation of more than 20 Elvis songs and about 25 cast members, Robertson said the production is all about the dancing and music.
"It moves fast; it's glitzy with big dance numbers, but Elvis' music holds it together and we just hope the audience is entertained," Robertson said.
Collaboration is key, plus a great director
Robertson likes to be surprised by what happens along the way when directing a play. One of the things that makes him so passionate about his career is creating a cohesive idea.
"I just enjoy being in a room with a lot of people who are passionate about creating some expression that we've all collectively thrown our energy into," Robertson said. "If I have a piece where I think I kind of know what it's going to be like it's not as fun."
Collaboration is one of the key parts of creating a unique experience, Robertson said, and getting to shares ideas with the crew makes the journey to the final act more connected.
Cathcart said that having a director like Robertson makes rehearsals a little more bearable.
"Brian's so creative and playful, and very open to having this carefree environment when we're rehearsing," Cathcart said. "A lot of the show is a collaboration of us as actors just getting up and having fun, then realizing there's a bit here, or we'll think of something and be like 'what if we did this.'
I was sitting in rehearsal last Thursday thinking to myself 'Wow, they thought of this part, they thought of that part,' it's a great combination of the actors and director."
Cathcart also said because of the collaborating and lighthearted space created by Robertson, it takes some of the pressure off.
"Brian's also understanding, which is refreshing in a rehearsal environment when you always feel pressure to do your best and be judged while performing," Cathcart said. "It's hard because we're singing these difficult rock anthems but he makes it less tense."
Because of weeks with music and dance rehearsals, followed with the last 2-3 weeks of staging, the crew is set to rock the theater.
"All Shook Up" will play in NKU's Corbett Theater from Feb. 16-26. Tickets can be purchased online through Theater and Dance.