New director overcomes cult-classic 'Rocky Horror'
October 25, 2016
Alex Steele has a lot of expectations to fulfill.
Not just because he's taking over NKU's performance of "Rocky Horror Picture Show," a cult-classic which has been done countless times across the country, including several times at NKU.
The sophomore theatre major and director of NKU's "Rocky Horror Picture Show" said he not only has his peers to impress.
"To take over and direct it, it's not just a challenge of theater but also a challenge of living up to my parents' expectations of the show," Steele said. "That's kind of what I've aimed for since the beginning, matching and then exceeding what they did back then."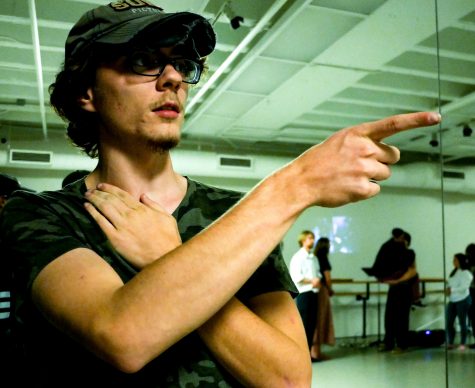 Lizzie Lotterer, freshman theater major, who is playing Janet Weiss in the production, said her parents also saw the show when they were her age.  
Lotterer also recognized how big of a show Rocky Horror is across the nation.  
The show has received a cult following after its initial release in 1974 with groups across the U.S. and the United Kingdom shadowing the show.  
That may be because a  Rocky Horror performance isn't your typical musical.  
The film is played while the actors mimic what is happening on the screen behind them.
For Lotterer the uniqueness of Rocky Horror is what attracted her to it.
"It's such a fun show, it's so active and it's so different from any other show you'll ever do because people are yelling at you and using props and stuff, it's just a blast," Lotterer said.
Both Steele and Lotterer agreed that being a part of Rocky Horror means you're asked to do things that you wouldn't normally be asked in typical productions.
"Rocky pushes your comfort level to extremes," Steele said.  "You're part of a burlesque show at one point, at another point you're dealing with aliens who are trying to summon a portal.
"It's one of those shows where once you've done it you can handle anything else, that's kind of the appeal of it."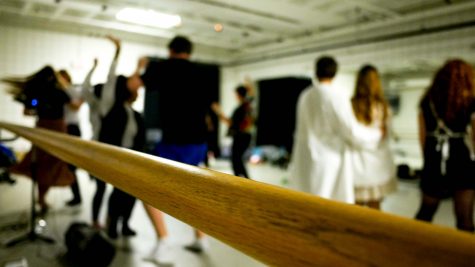 Lotterer said one of the key differences between Rocky Horror and a typical production is the precise acting needed.  Because the film is being shown behind the actors they try to be as exact as possible and follow what is happening on screen.
"In normal shows you're trying to make this new character, but instead you really have to look at the movie and do exactly what that character is doing," Lotterer said.  "It's an entirely different challenge than coming up with your own character."
NKU's Rocky Horror production has come with its own set of challenges as well.
The director for the past two years had been Zach Robinson, but he decided not to direct the performance for his senior year.  Steele decided to take over after performing in the show last fall.
The show is also crowdfunded through a GoFundMe account to cover the cost of the set, costume, makeup as well as paying for the venue.  
"We didn't advertise GoFundMe at all other than through Facebook and reaching out to the community who wants to see this," Steele said. "Most of our funding came from the older generation, the ones who wanted to relive their teenage experiences of going to Rocky and doing these things."
Despite having a new director, raising money and some initial confusion on where the performance would be held, the production team hasn't slowed down.
Ray Dzhorgov, senior theater major said he thinks they're setting a new standard for the production at NKU.
"We've really become dedicated and kind of become a little more nit-picky with how we're going to act out the movie in front of the audience, and we really want to get it down," said Dzhorgov who has played the character Rocky for the past two productions and will be for this year,
Dzhorgov said the group got started a lot earlier than in previous years and have stepped up their game props, set and costume-wise.
"If we would've had a band and musicians we could've probably done the production," Dzhorgov said. "We're kind of that borderline between not really doing the show, not doing the movie, but right in the middle."
The Rocky Horror Picture Show will be shown and performed at 9 p.m. and 12 a.m. on Oct. 31 in the Stauss Theater. Tickets are $6 for students, $10 for everyone else, and will be sold at the door on a first-come, first-served basis.