Rising from the ashes: Bonnie Meyer's story
November 13, 2015
A tattoo of a phoenix extends its wings across Bonnie Meyer's back. Around her right wrist, a quote from the novel "Wicked" is etched with an outline of Elphaba Thropp.
"I shall wait for your shoes."
Both of these tattoos serve as a reminder of Meyer's long journey to get to where she is now. Meyer is currently  the director of LGBTQ programs and services at NKU.
Meyer is open about her sexuality and she identifies as a queer pan sexual, but her realization of this was a lifelong process of finding her own safe place for activism and freedom.
Early years
Growing up in a small town in northwest Ohio, Meyer knew that was not where she was going to live and die. Meyer was determined to make something of herself that was bigger than that town could hold.
For the first five years of her life, she lived with her grandmother and remained close to her. When her mother married, they moved from the city area to a more rural part of the town. Meyer noted that the relationship between her and her mother's husband was not a good one.
"It was a really hard childhood," Meyer said. "It's one of those small communities where people tend to grow up, they marry usually somebody they met in high school. They stay in that community and it's always the same families that stay in that community. I always knew that wasn't for me. I didn't fit in within my own family. My mom's husband was just… He always had a problem with me."
Meyer was expected to take on typical female gender roles of cooking and cleaning in her household. She said that once her mother went back to work when she was in sixth grade, she began to take on more of that responsibility.
"I remember her husband yelling at me because I wasn't doing the laundry correctly or something," Meyer said. "It was an ick situation. It was just bad."
As Meyer started high school, she met someone her sophomore year and he eventually became the father of her children.
However, during this time, Meyer still felt there was something different about her. Since it was the 1980s, all that was said publicly about the gay and lesbian community was centered around the AIDS epidemic.
"Knowing that there was something that wasn't acceptable, or not even knowing what it means," Meyer said. "There were no representations of gay and lesbian people in my community or on television. There was nothing. I didn't know there was anything other than you marry a guy and you have kids. I felt for a long time there was something wrong with me because it never seemed completely right with me."
Meyer moved out of her house two weeks after turning 18 and moved in with her grandmother after a fight with her mother's husband. He had a daughter who died as an infant who would have been Meyer's age.
"There was a situation where he said that she should be alive instead of me," Meyer said. "And that was it. Game over, I'm done."
Meyer stayed with her grandmother for a summer after graduating high school. Because of all the turmoil, she couldn't accept a track scholarship that she received.
Meyer and her grandmother clashed heads during this time and she eventually moved into her own apartment and bought her own car.
"Within four months of high school graduation, I was working 40 hours a week," Meyer said. "I just sort of jumped into adulthood."
Then Meyer moved in with her boyfriend.
Finding herself
Crumpled on the floor crying, Meyer found herself faced with tough decisions.
She was pregnant.
"I called his brother who was my best friend," Meyer said.
Meyer married her boyfriend and had her daughter.
"When she was about a year old, I realized that this whole stay at home mom, babysitting, scraping by was not what I wanted to do with my life," Meyer said. "I always wanted to be a teacher and go to college."
Meyer was the first one in her family to go to college and receive a degree. She and her husband at the time both decided they wanted to attend college and found themselves at Miami University as non-traditional students. They had moved out the small town to attend.
During this time, Meyer worked and attended school full time while also taking care of her daughter. While at Miami, Meyer found different sexual orientations and identities. That's when she realized that she identified more with pan sexuality.
"Miami really opened my mind," Meyer said.
After graduating, Meyer took a teaching job in the Cincinnati area.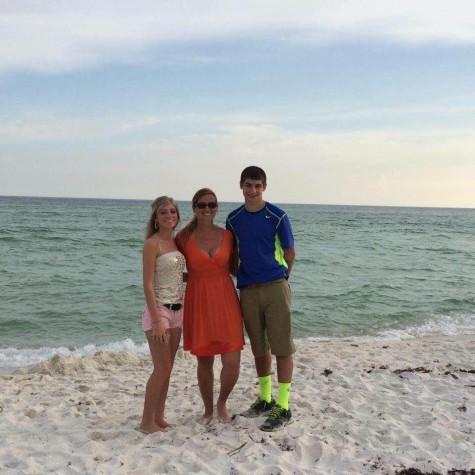 Going back
"In 2005, I got a phone call in the really early morning that my grandma was in the hospital," Meyer said. "It was really unexpected because she was really healthy."
After her grandmother was found on the floor, she was rushed to the hospital. Meyer said that she went back to her hometown to stay with her grandmother for a bit, but had to come back for a track meet since she was the track coach.
Her mother called her one night and said that she needed to come back because her grandmother was on the verge. She died the next day.
"It was ultimately when she died it devastated me," Meyer said. "I realized that my kids needed to be near their grandparents because I can't imagine not having her. I am who I am because of her."
Meyer then called her old high school in her hometown and got a job there.
"It was not a good move for me professionally," Meyer said. "I was never a fit in that community."
Life changed for Meyer after they moved back.
Meyer and her husband separated because of different reasons. It was harder because they were married young and they both had grown in different directions. Her ex-husband sees their hometown as home and Meyer does not.
"He went through a pretty dark place," Meyer said. "Things really fell apart and became toxic between us."
Meyer had her masters while her ex-husband was unemployed. She was mostly providing for the family at the time.
"He lashed out afterward," Meyer said. "It was a bad situation. I was outed… He did it because he was coming from a serious place of pain because I left."
In that type of town even an accusation can cause you to be kicked out.
Despite that, Meyer noted that it ultimately created good results because she got to pursue her dreams while he was able to remarry and even has a baby on the way.
"He's a good dad," Meyer said. "He was not a good husband to me, but he's a good dad. I'm happy my kids have him as a dad."
Meyer then found herself back at Miami University.
Meyer openly expressed inclusiveness and diversity in both schools that she taught. She did not allow any form of homophobia, racism or sexism in her classroom. She also mentioned that a student had come out to her every year at both schools.
"The beautiful thing that happened after that was that I was able to find a safe place," Meyer said. "I believe that it had to happen. I feel like this work is my calling and you come into that realization… I always knew I wanted to do something."
Meyer found that safe place at Northern Kentucky University.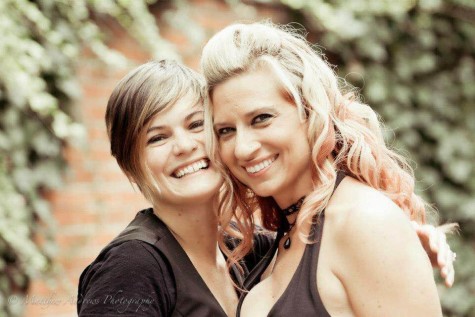 Now
Past the the front desk on the third floor of the Student Union inside the LGBTQ center is Meyer's office. Paintings from local artists line the walls along with posters promoting certain events. Rays of sunlight shine through a rainbow flag hanging in the window serving as a welcome sign to everyone outside.
Flowers sit on the edge of her desk from her wife. Post-it notes of encouragement from her daughter stick to the cabinets above her desk.
"I'm lucky. Everything that happened was especially hard on her and my son and to live two hours away from where he is," Meyer said. "It's tough in general and to have your mom end up marrying a woman and after a kind of rough divorce from your dad, there are a number of ways that could have gone. There could have been many ways they would struggle with it and they've just been awesome so I'm very lucky. Both of my kids are supportive."
Meyer has two children–Alyssa and Kyle. Alyssa is an electronic media and broadcasting student at NKU in her freshman year.
"I would describe her as loving, independent, but dependable," Meyer's daughter, Alyssa Nickles said. "She's very motivated and she has a very, very big heart. She cares genuinely about other people and other people's lives."
Alyssa admires her mom as she learned her own independence in herself. She also said that she learned not to judge others and to have acceptance for others. In the challenges of moving from northwest Ohio to Northern Kentucky, Alyssa noted that they both found a place here.
"You come down here and for the most part, everyone is a lot more accepting," Alyssa said. "We're able to completely live freely of who we are."
Alyssa currently lives on campus, but will visit Meyer and her wife. After Meyer remarried a woman, Alyssa said it didn't bother her that much.
"A lot of people ask me, 'How were you able to deal with your mom and how accepting were you and how did you look at it when your mom divorced your father and now is with a woman?'" Alyssa said. "And my response is always… Pretty much the same way if Mom would have married a man. To me, Katie is family and I love her and she fits in perfectly with us. It's definitely a change to get used to… I think it's really helped us grow. It's helped me be more open minded."
The changes that they both experienced had been for the better in their lives.
"It's so good to see her happy now," Alyssa said.
In her work, she works with faculty and students. One of the main coworkers that she knows and works with the most is integrative studies senior and LGBTQ Student Programming & Research Assistant Morgan Bell. Bell works as the student programming and research assistant in the LGBTQ Programs and Services.
"She is the definition of a true human ally and she works so hard in everything that she does," Bell said. "When we are in the office, I learn something from her just about every day. I'm glad to have someone so passionate and focused in my life."
After rising from the fires and claiming her "shoes" in life, Meyer's tattoos represent her journey and how she got to where she is now.
Meyer has her masters in teaching and is finishing up her doctorate degree that she began in 2008.
"Looking back on everything, where did the fire come from to pursue an undergraduate degree anyway?" Meyer said. "And it was her [grandmother] and that fire… Something about what she did, I had this internal sort of thing that said, 'You can get out of here, you can do something better. You just gotta keep moving forward'."