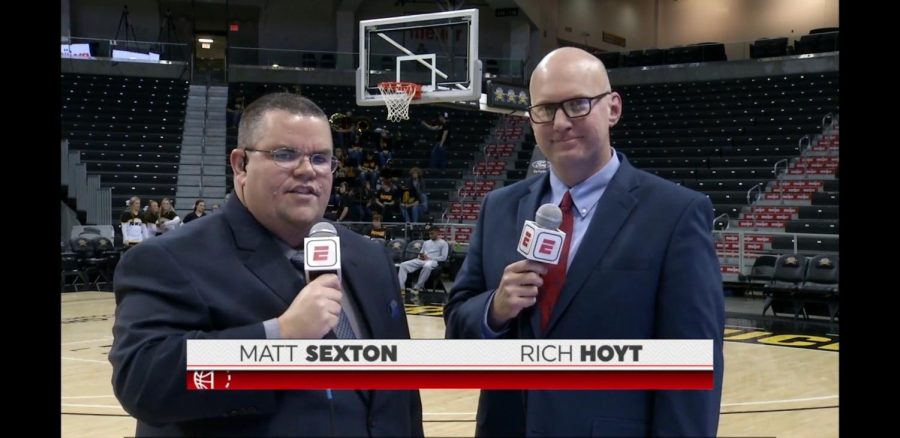 Provided by Matt Sexton
When were you at The Northerner? 
Fall 2015 through Spring 2017.
When did you graduate? Major?
Graduated in May, 2017 with a Bachelor of Arts in Journalism with a minor in EMB.
What did you do at The Northerner? 
I was the Sports Editor through the 2015-2016 school year. I was Managing Editor in Fall of 2016 and Editor-in-Chief in Spring of 2017.
What has your career been like since graduating?
I'm still trying to figure out what I want to do (haha). Things haven't changed much on the journalism side of my career. I'm still a freelance sports writer with the Wilmington News Journal. However, on the EMB side, I'm in my third year as a broadcaster for NKU's ESPN3/ESPN+ coverage. I'm getting ready to begin my second year as the lead play-by-play broadcaster of women's basketball. That has been a lot of fun. Broadcasting sports has always been my dream job and I'm finally getting to pursue that (even if it is only on a part-time basis).
What's your current job? 
My full-time job is lending officer at the First National Bank of Blanchester. That's the job that I have to do so I can do the things I want to do (coaching girls tennis at Blanchester High School, broadcasting, writing). I work with some wonderful people at the bank. I'm also considering returning to NKU to pursue my master's degree so I can teach.
How did The Northerner help you start your career?
It was a little different for me because I had worked professionally before coming back to finish up school. I had professional experience before I joined The Northerner. There is no question that The Northerner opened the door for my broadcasting opportunities. I was able to meet the sports information people at NKU – and they were able to meet me and see what I could do to help them out. I think those connections I made was the small chance I needed to get my foot in the door.
What's something you miss, or don't miss, about The Northerner?
I don't miss trying to balance the newspaper with school work, that's for sure! (haha). I miss the people. I miss seeing Michele every day. It takes a special person to balance all of the hats that you have to wear to be the faculty advisor of a student newspaper. She does it and makes it look easy. 
Most of all, I miss all of my friends I made at The Northerner. Despite being older than everyone else on staff, they welcomed me in as a peer. They're like family to me. I don't think they'll ever know how much their friendship meant to me. I love them all so much! They're all so talented. I wonder sometimes how I got so lucky to be dropped into that group at that very point in time.
If your industry is journalism, how is it similar to The Northerner? 
I think our broadcasts have the most in common with The Northerner. There were so many times that we had a plan, and then chaos happens, and everything changes at the last minute. That happens in our broadcasts from time to time. I think it has helped me just roll with it and not get too worked up about things you can't control. 
What is a piece of advice for current Northerner staff?
For those on staff, just try not to let everything overwhelm you. When trying to balance the paper, your classes, your social life and everything else, sometimes it can feel like the weight of all of it will crush you. Lean on your fellow Northerner staff members and Michele. You're all in it together, and you can get through anything together.
Twitter: @MattSextonPxP