"Not even the stories add up to how real it was."
August 21, 2016

How do you communicate with a family that doesn't speak a word of English?
Junior Catherine Tuttle faced this challenge over the summer when living with her host family in Bregenz, Austria.
"I learned to communicate through my actions and expressions. It was definitely something new for me," Tuttle said. "Making myself find a way through something was challenging but worth it. I never thought I would have to talk to someone through a dictionary. Being able to speak different languages and still put the effort to understand one another was humbling."
In addition to learning to understand the language, Tuttle studied the psychology associated with the Holocaust and the culture.
Other than hitting the books, Tuttle and her classmates took time to observe people in Austria and Germany in hopes of learning psychological habits within the culture.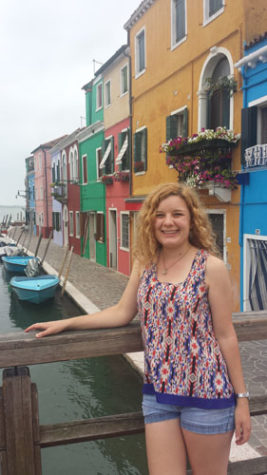 Outside of observing, she visited Dachau Concentration Camp to gain a better understanding of the emotional scars history left behind.
"You can read about anything you want, actually seeing it is a whole other thing," Tuttle said. "The class as a whole grew together, making a connection through what we had seen and what we were feeling. Not even the stories add up to how real it was."
Tuttle mentioned she is eager to go back.
"I have always been independent and I know I will never stay in one spot," Tuttle said. "Going around the world is something I have always wanted to do and something I will continue to do. I grow as a person everywhere I go."
She received the International Study Abroad Scholarship and the Honors Program Scholarship to help offset the cost of her trip. The trip cost came to $4,200. With that Tuttle had a host family, transportation access, admission to museums, meals and other lodging expenses included.