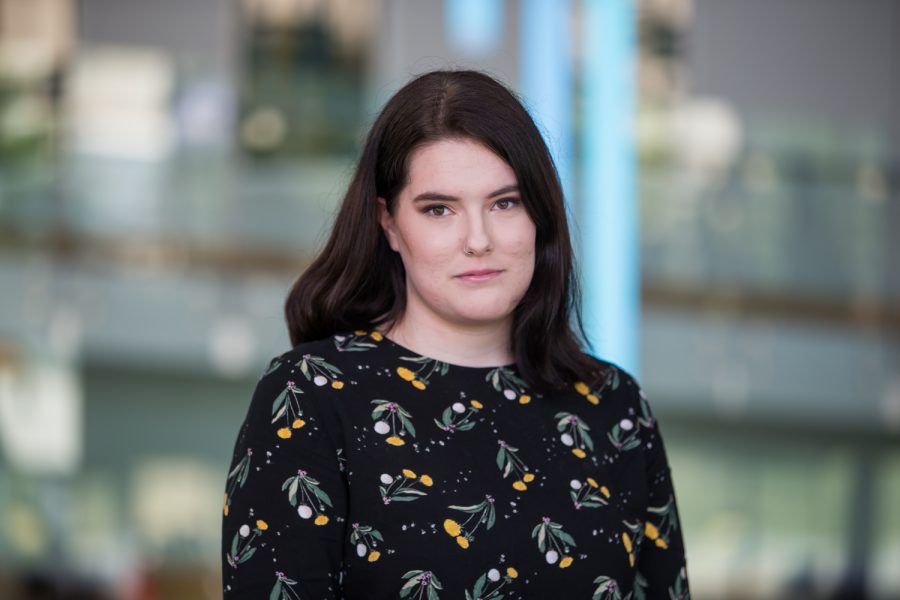 Name:
Noelle Horn
Position: News Editor
Bio:
Noelle has been writing for The Northerner since October 2018. She is passionate about being an empathetic and honest reporter. She has covered topics such as human trafficking, inclusiveness and campus saftey. 
In her free time, you will likely find her reading a Jane Austen novel in a comfy chair, playing Animal Crossing or listening to Phoebe Bridgers. 
Year/Major: Senior, Journalism
Favorite song: "Savior Complex" by Phoebe Bridgers
Social media handle: twitter @NoelleH_NKU
Noelle Horn, News Editor
Dec 07, 2020

Farewell: Senior News Editor Noelle Horn

(Story)

Dec 02, 2020

Board adopts president's recommendation for a soft freeze, lump-sum pension plan

(Story)

Nov 29, 2020

What's coming to streaming: December

(Media)

Nov 29, 2020

2020-21 WBB: New faces with new goals

(Media)

Nov 11, 2020

Board of Regents: members of staff congress discuss pension, presidential comments

(Story)

Nov 03, 2020

Computer malfunctions, absentee ballots: How NKU students voted

(Story)

Oct 29, 2020

Campus survey suggests NKU needs more equity within students, faculty, staff

(Story)

Oct 26, 2020

Faculty senate: Title IX, pension, student disengagement

(Story)

Oct 20, 2020

Provost COVID-19 update: delay of meal plan, fees, travel requirements

(Story)

Oct 19, 2020

Mandatory online sexual assault training deadline extended to Nov. 15

(Story)

Sep 29, 2020

Vaidya: virtual commencement, changes to spring break, other updates

(Story)

Sep 21, 2020

Students, professor discuss upcoming election, voter registration

(Media)

Sep 09, 2020

Board of Regents swear in new regent, discuss COVID-19's impact on enrollment, budget

(Story)

Sep 07, 2020

Being a dean during a pandemic

(Story)

Sep 03, 2020

SGA announces 5 new freshman senators

(Story)

Sep 01, 2020

Provost shares new online form for positive cases, triggers for campus closure

(Story)

Aug 31, 2020

Faculty senate has first meeting of semester

(Story)

Aug 29, 2020

NKU officials discuss potential mandatory commuter meal plan

(Story)

Aug 25, 2020

Provost shares COVID-19 update, FAQ

(Story)

Aug 18, 2020

Provost updates campus on COVID-19 protocols

(Story)

Jun 19, 2020

REVIEW: Phoebe Bridgers Releases 'Punisher'

(Story)

May 08, 2020

How COVID-19 affected NKU

(Story/Media)

Mar 04, 2020

Goodwin and Derks: Transparency in Action

(Story)

Feb 27, 2020

No Bones About It: Evolutionary Studies is Skeletons of Fun

(Media)

Feb 06, 2020

Dr. Ginni Fair announced as dean of the College of Education

(Story)

Jan 28, 2020

NKU invites the community into its classrooms

(Story)

Dec 03, 2019

Everybody wins this Giving Tuesday

(Story/Media)

Dec 02, 2019

SGA creates new committees and appoints chairs

(Story/Media)

Nov 21, 2019

Dating in the digital age: safety, awareness

(Story/Media)

Nov 19, 2019

SGA reappoints committee chairs, amendment changes

(Story/Media)

Nov 14, 2019

Board of Regents discuss renovation plans across campus

(Story/Media)

Nov 06, 2019

SGA passes resolution for NPHC plots

(Story)

Nov 06, 2019

Basketball Preview: The Norse Return

(Media)

Nov 04, 2019

Student's perspectives on upcoming governor election

(Story)

Oct 22, 2019

Vaidya discusses strategic framework, retention issues at SGA

(Story/Media)

Oct 09, 2019

LGBTQ History Month: pride, visibility

(Media)

Oct 08, 2019

Police report attempted sexual assault

(Story)

Oct 01, 2019

SGA hosts town hall, addresses mental health within identities on campus

(Story)

Sep 12, 2019

Board of Regents announces new residence hall and new pizzeria

(Story)

Sep 11, 2019

A different perspective: NKU's newest police officers

(Story)

Aug 29, 2019

LIFT Scholar Program invests in student success

(Story)

May 29, 2019

NKU announces new vice president and chief strategy officer

(Story)

Apr 29, 2019

Minority health counseling: Could university programs be more inclusive?

(Story)

Apr 02, 2019

E. coli outbreak linked to fast food in Kentucky

(Story)

Feb 20, 2019

Human trafficking task force working to help Kentucky victims

(Story)

Jan 18, 2019

Rebel lawyer: Chase Law professor defends survivors of trafficking

(Story)

Nov 13, 2018

At campus pro-life display, opinions split on Roe v. Wade

(Story)

Oct 25, 2018

Planetarium's 'Dying with the Stars' shows how spooky space can be

(Story)

Oct 04, 2018

The dangers of Cyberspace & how you can protect yourself

(Story)