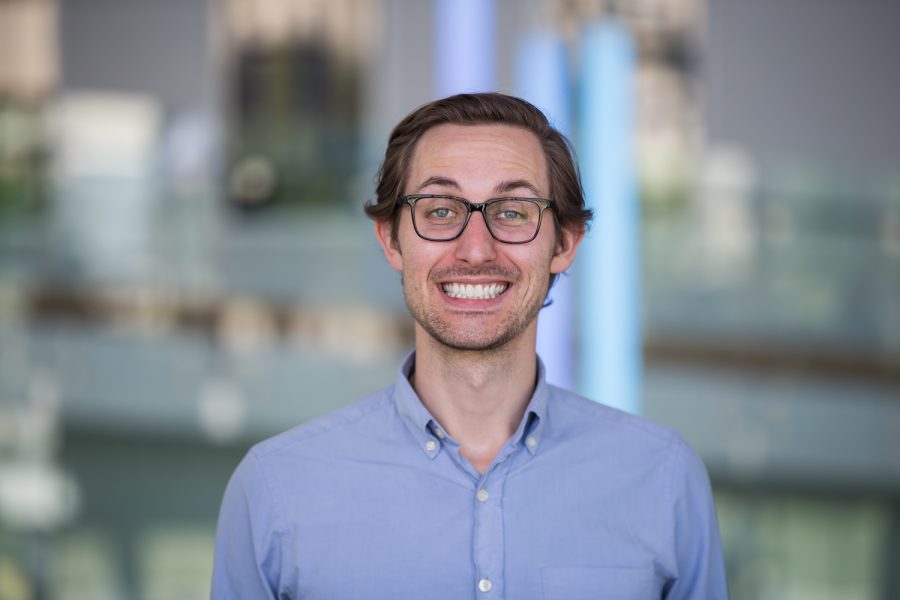 Name: Josh Goad
Position: News Editor
Bio:
Josh Goad is a 29-year-old senior journalism major who has reported for the Northerner since spring 2017. He looks forward to the day that he graduates, this semester, but treasures his time with the youth of this university. He loves his fiancé, Katey Parks, and his handsome young puppy, Gus, very much.
Year/Major: Senior, Journalism
Favorite song, TV show or
 movie: The Matrix is a genuine masterpiece of film. 
Social media handle: @depechegoad
Josh Goad, News Editor
Aug 29, 2019

LIFT Scholar Program invests in student success

(Media)

Aug 21, 2019

A conversation with SGA 2019 President, VP

(Story)

Apr 22, 2019

Spring forum: Vaidya talks new plans, budget and enrollment

(Story)

Apr 03, 2019

Free speech: Kentucky bill aims to broaden protest laws

(Story)

Apr 02, 2019

What you missed at SGA April 1

(Story/Media)

Apr 01, 2019

Five questions with the sixth president

(Story)

Mar 27, 2019

Dr. Ashish Vaidya: NKU installs sixth president

(Story)

Mar 26, 2019

Tuition rate jumps as housing, dining and parking fees rise

(Story/Media)

Mar 25, 2019

Pensions: Bills could freeze NKU's payment or help school leave system

(Story)

Mar 08, 2019

Women's History Month: female empowerment, leadership

(Story)

Mar 06, 2019

What you missed at SGA Mar. 4

(Story/Media)

Mar 05, 2019

Switching majors: Learning to follow your heart

(Media)

Feb 26, 2019

What you missed at SGA Feb. 25

(Story)

Feb 20, 2019

Human trafficking task force working to help Kentucky victims

(Media)

Feb 19, 2019

What you missed at SGA Feb. 18

(Story/Media)

Feb 18, 2019

Flu season's here: how you can stay well

(Media)

Feb 13, 2019

Will Title IX change?

(Story/Media)

Feb 12, 2019

What you missed at SGA Feb. 11

(Story/Media)

Feb 11, 2019

Student Government Association: How does it work?

(Media)

Jan 17, 2019

Enrollment is up, online classes boost new numbers

(Story)

Dec 18, 2018

Local CEO to head Business College as interim dean

(Story)

Oct 24, 2018

How NKU fights its shrinking enrollment

(Story)

Oct 18, 2018

Health Innovation Center: Bevin, Vaidya cut ribbon at dedication

(Story)

Sep 26, 2018

Opinion: Don't get mad, get to the polls

(Story)

Sep 15, 2018

Board of Regents combat enrollment dip, form student success team

(Story)

Sep 06, 2018

Honors College launches in Founders Hall

(Story/Media)

Sep 06, 2018

'That could've been me': NKU reacts to Cincinnati shooting

(Media)

Aug 31, 2018

Au No! HIC bakery Au Bon Pain won't open until October

(Story)

Jul 06, 2018

Chase professor a Supreme Court contender

(Story)

Apr 09, 2018

Education, care go hand-in-hand for Health Innovation director

(Story)

Mar 21, 2018

NKU trends toward diversity

(Story/Media)

Feb 18, 2018

NKU ecological stewards to make historic Newport green

(Story/Media)

Feb 02, 2018

Any way the wind blows: why campus is so windy

(Story)

Dec 08, 2017

NKU's move to grab the graduate market

(Story/Media)

Nov 19, 2017

With help from France, STEM students get a fighting chance

(Story)

Oct 08, 2017

NKU's Parker Project funded by National Science Foundation

(Story)

Sep 22, 2017

NKU implements sustainability practices to attain zero net carbon emission

(Story)

Sep 11, 2017

Going abroad: A trip for the mind and the wallet

(Story)