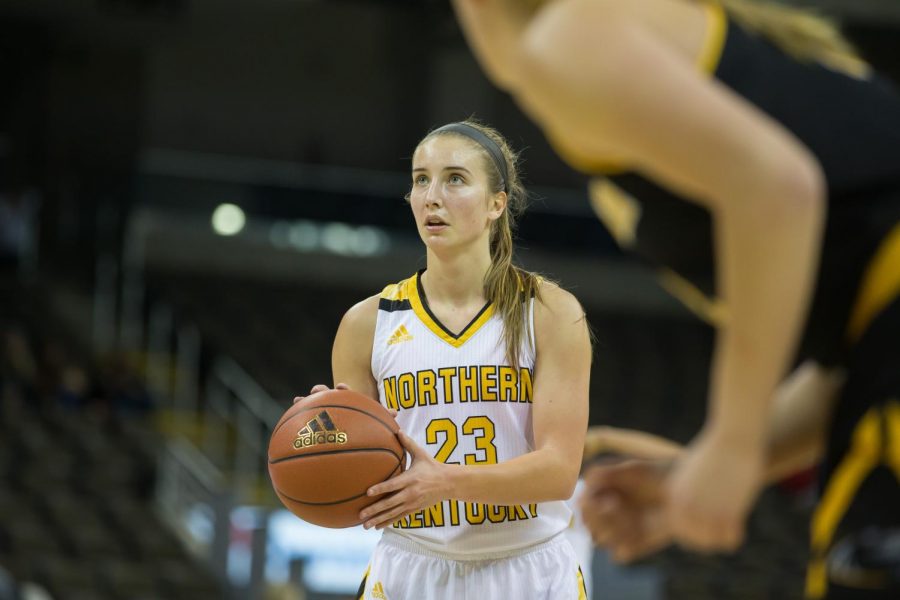 Colin Johnson
After leading the majority of the game, the NKU women's basketball team fell to the Milwaukee Panthers 53-49 in BB&T Arena.
NKU falls to 2-10 on the season and 0-1 in the Horizon League while the Panthers improve to 9-4 on the season and are 1-0 in Horizon League play. 
"I thought our defensive intensity and our effort were really good today," NKU head coach Camryn Whitaker said. "That's the number three ranked team in the league. They are experienced. They've got a very good post player in Kostowicz… We don't have experience, but we are learning."
In the fourth quarter, the Panthers took over and shot 44 percent from the field while the Norse only managed to make one field goal and scored five points. Milwaukee took their first lead since the opening minutes on a McKaela Schmelzer three with 3:42 remaining. 
The Norse would tie the game one more time in the final minutes put could not hang on for the win. Samari Mowbray has a chance to win the game with eight seconds left, but her three was off the mark.
"We got a good look," Whitaker said. "I thought Samari got a good look. They executed the play. We've done that time and time again and we are so close."
The Norse shot 1-9 from the field in the fourth quarter and scored just five points. 
Steph Kostowicz led the way for the Panthers with 17 points on 5-7 shooting. She also went 7-9 from the free throw line. Jamie Reit scored 11 points and went 3-7 from three while Schmelzer scored 10 points.
The Norse were led by Grace White, who scored a career high 15 points on 6-11 shooting. The guard also grabbed eight rebounds. 
"I was just more aggressive than I have been in the past," White said. "I came in with a different type of confidence. (Coaches) have been really building us up the last few weeks." 
Molly Glick scored 10 points while Kailey Coffey scored seven points. Overall the Norse out rebounded Milwaukee 35-27 and grabbed 17 offensive rebounds. The Norse also forced 22 Panther turnovers.
The Norse took the 8-7 lead with just over a minute left in the first quarter and wouldn't relinquish it. Milwaukee turned the ball over 14 times in the first half while the Norse committed only eight turnovers. NKU led by as many as 15 in the second quarter and lead 32-22 at the halftime.
Despite the Panthers shooting 41 percent and shooting just 26 percent, the Norse maintained a nine-point lead. White recorded her 13th point in the quarter, giving her a new career high. 
The Norse will take on league-leading Green Bay on Saturday at 1 p.m. at BB&T Arena before embarking on a road trip that includes matchups with Detroit Mercy and Oakland. 
"We are there. We've got things to improve, but I'm encouraged," Whitaker said. "With our youth and inexperience we have to get better and that's all we are focused on."