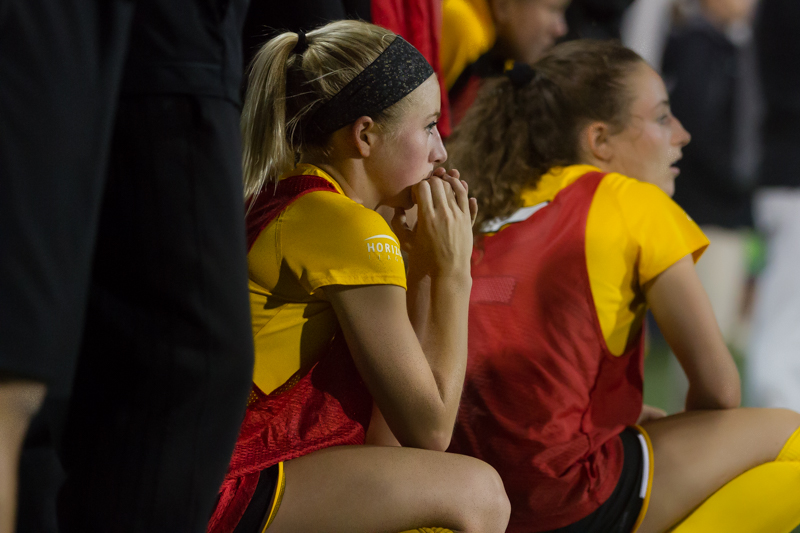 Colin Johnson
Northern Kentucky fell to Xavier 2-1 on Sunday night, extending their losing streak to three games. The Norse fall to 3-4 on the season while Xavier improves to 4-3-1. 
"We gave up two goals. I think both goals we could have prevented and we didn't," head coach Bob Sheehan said. "That's been a recurring theme for us throughout the season. We are going to have to improve in certain areas." 
Xavier collected 17 shots on the night while the Norse shot 11 times. Xavier and NKU both had five shots on goal. NKU forward Macy Hamblin had four shots on goal, including the only Norse goal of the night.
Xavier struck first in the 16th minute when Sydney Schembri scored off an a corner kick assist from Courtney Lankford. It was Schembri's third goal of the season.
The Norse were whistled for 14 fouls in the match while only four fouls were called on the Musketeers all night.
"I thought there was a lot of physical play," Sheehan said. "At the end of the day we aren't going to get all the calls and we aren't going to get the calls we want. We have to compete and do a better job of fighting through that."
One of the calls Sheehan was most frustrated with came in the 32nd minute, when Hamblin was dribbling full speed and appeared to be in the box and was taken down by a Xavier defender. While a foul was called, the referee ruled Hamblin was not in the box and was awarded a free kick instead of a penalty kick. Sheehan also believed a card should have been issued.
Two minutes later, Emma Westwater scored in the box on an assist from Caitie Baron for her second goal of the season. The goal gave the Musketeers a 2-0 advantage.
The Norse would get a goal closer in the 52nd minute, when Hamblin charged down the left side of the field after a pass from Emily Soltes and deposited the goal in the right side of the netting. The goal is Hamblin's second of the season. 
"It's a terrific goal," Sheehan said. "Macy is a terrific player."
The Norse had several chances to score late in the game, the best one being when Jessica Frey took a pass from Hamblin and missed a shot wide right from just outside the box at the 84th minute. The Norse would make a couple more runs at the goal but couldn't convert. 
The Norse will begin Horizon League play Friday when they take on UIC at the NKU Soccer Stadium. Even with league play starting, Sheehan is still taking the season one game at a time.
"There are pieces that are really strong and I think there are other areas that we have a lot of work to do," Sheehan said. 
Friday's game starts at 7 p.m. and will be available on ESPN3.