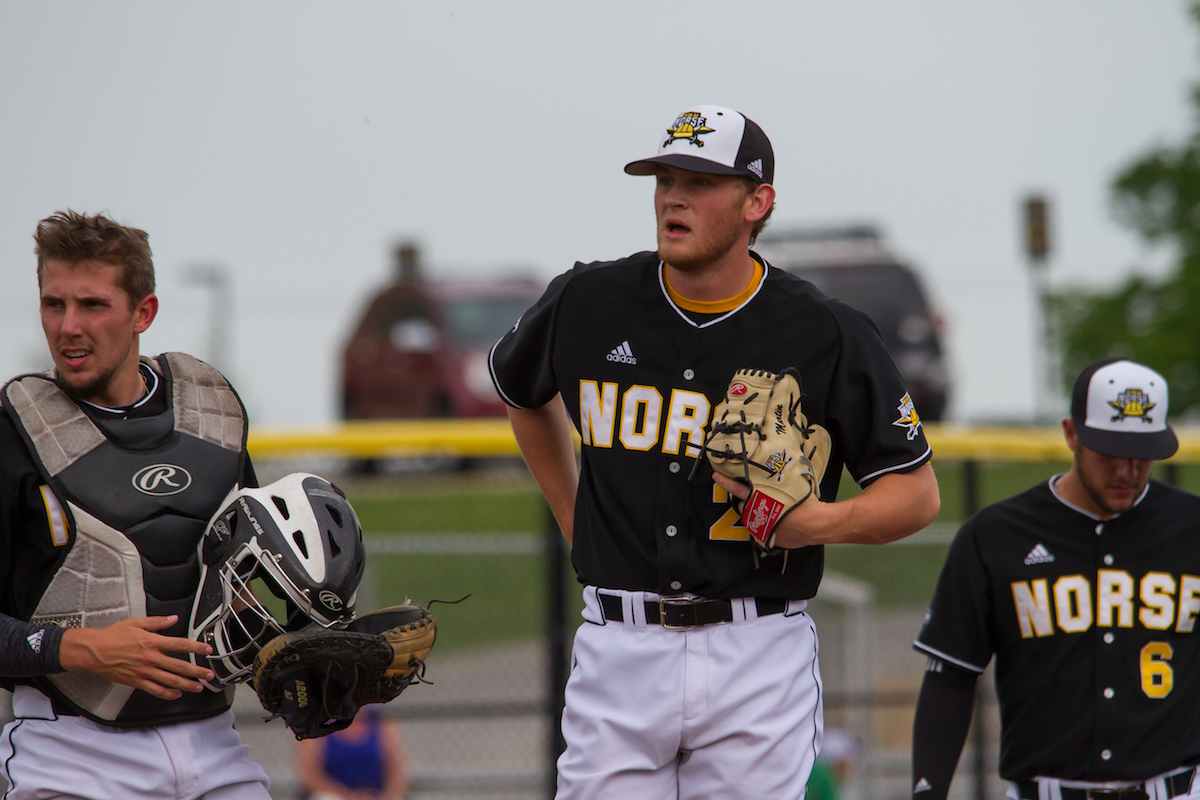 Colin Johnson
The Norse baseball team fell to Wright State Friday evening 7-3 in the first of a three game series. Pitching coach Dizzy Peyton stood as acting head coach for the Norse, as Todd Asalon served the first game on his four game suspension.
Jean Francois Dionne started for the Norse and held the Raiders scoreless through two innings, but Wright State's speed helped put two runners in scoring position before freshman Seth Gray singled, scoring two.
NKU had three errors on the day, the first coming early in the third, when a dropped third strike got away from catcher Zach Heming, and Raiders left fielder Alex Alders reached first.
Alders caused the second error from after a wild throw rolled into the outfield, and Alders sped to third. A single to right field from shortstop Kevin Whatley allowed Alders to score, putting Wright State up 3-0. The errors really hurt the Norse in the early part of the game.
"It just forces our pitchers to throw extra pitches, it breaks up their rhythm and doesn't allow them to go deeper into the game," Peyton said.
TJ Alas began the bottom of the inning with a solo home run, but the Norse couldn't keep the intensity going, as the Raiders ended the inning with a double play.
Gray led things off the third inning by reaching first on another Norse error as first baseman Trey Ganns was unable to secure the ball in his glove before Gray reached the bag. Alders followed with another single, while Whatley followed with an RBI line drive back up the middle.
Conor Ledger lead things off for the Norse in the bottom of the fifth with a single to right field, while Jake Richmond followed with a single to centerfield. A walk for Alas loaded the bases for Will Haueter, who doubled to center field. Ledger and Richmond were able to score but the Norse still trailed 4-3 heading into the sixth.
Haueter has now accumulated four doubles and six RBI in the last five games. Going into Friday's game, he held a batting average of .400 with a total of 14 runs scored.
"Last year as a DH it was easy to show up and just worry about hitting," Hauter said. "Adding the responsibility of catching this season can be a little bit of a struggle sometimes, but I really enjoy being out there."
The top of the sixth inning didn't come easy for the Norse, as back to back solo home runs from Adrian Marquez and Gabe Snyder added to the Raiders lead 6-3.
The Norse and Raiders remained scoreless until the top of the ninth, when a deep single to right field allowed previously walked Weatherford to score the last run of the game and give the Raiders a 7-3 victory.
NKU hosts Wright State in game two of the series on Saturday, April 29 at 1 p.m.