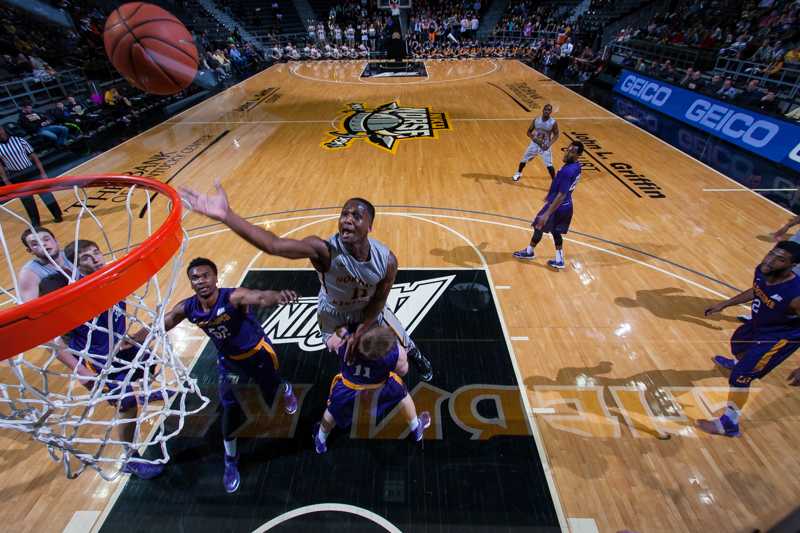 Kody Kahle
The NKU men's basketball team ended their two-game losing streak on Saturday night, beating the Lipscomb Bisons 77-60 on Homecoming Night at The Bank of Kentucky Center in front of 3,887 fans, the second-largest crowd of the season.
"I thought our guys did a tremendous job, especially after a tough road trip down in Florida," NKU Head Coach Dave Bezold said. "But, we've got a lot of confidence at home."
Tyler White led the Norse in scoring for the game with 18 points, all in the first half. Jalen Billups, who had a number of slam dunks throughout the night, finished with 15 points.
"Tonight, I just got going early and made a couple shots," White said. "Once I get into a rhythm, it seems like the rim is an ocean throwing a rock into it."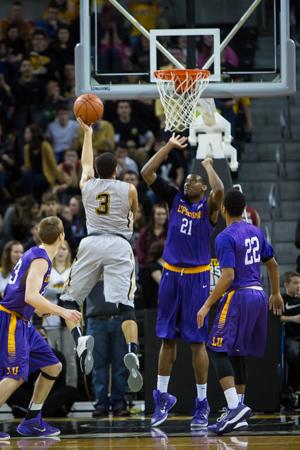 The Norse began with the lead and ended with the lead, starting the game on a 12-3 run by way of all five starters scoring from the field.
The lead would continue to extend for the Norse, seeing a lead of 25-7 at the 10:22 mark in the first half when Todd Johnson sank a long three-pointer.
The Norse got to the largest lead of the first half when White drained a long three-pointer at the buzzer, sending NKU to the locker room with a 21-point lead at halftime, leading Lipscomb 41-20.
NKU began the second half where they left off; going on a 10-1 run to lead by 30 at the 15:00 mark after Billups made both free throws.
The Bisons began to dent the Norse's lead near the end of the half after Bezold sat all the starters and put in five bench players to finish the game.
White said that the team's energy tonight was a vast difference from the team's energy at Stetson last week, where they lost 85-75.
"Tonight, our coaches stressed to us that we need to have energy and that you need to come out ready to play," White said. "We came out with a lot of energy and carried us through the game."
Billups believes this was a must-win game going forward with the season.
"We're still a contender to win the A-Sun and to host the tournament, so every game counts at this point in the season," Billups said. "This was a good win for us."
With the win, the Norse surpassed their win total from last year (nine), improving their overall record to 10-13 and their conference record to 4-4.
NKU continues the home stand with games against Florida Gulf Coast on Thursday and Stetson on Saturday, both at 7:00 p.m. at The Bank of Kentucky Center.
The game also marked the end of Homecoming week at NKU. At halftime, Justin Bezold and Nikole Barkalow were crowned the 2015 NKU Homecoming King and Queen, respectively.