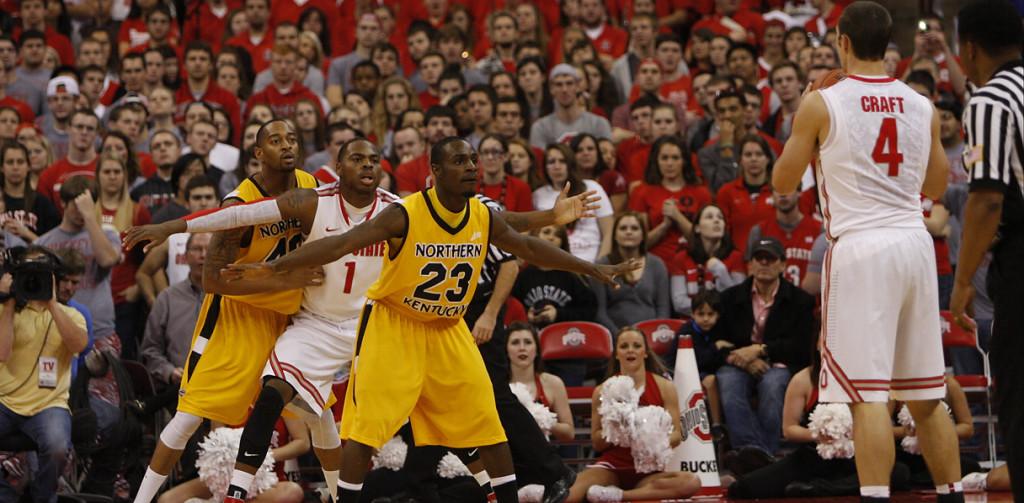 Kody Kahle
NKU Athletics released the men's basketball team's 2013-14 schedule, which includes key away games against the Kentucky Wildcats, North Carolina Tar Heels and Purdue Boilermakers.
The University of Kentucky will host the Norse on Nov. 10 at Rupp Arena and the game against the University of North Carolina will take place Dec. 27 at Chapel Hill, N.C. This marks the first time NKU will play on the road against either team in a regular-season game.
The Norse will host teams such as San Diego, Morehead State, Hampton, Navy and Tennessee Chattanooga.
The schedule includes two games against Atlantic Sun power house Florida Gulf Coast, as well as a full A-Sun conference schedule. Northern Kentucky will also travel the University of Tennessee at Martin to compete.
2013-14 Northern Kentucky men's basketball schedule:
Friday, November 8                at Purdue
Sunday, November 10            at Kentucky
Saturday, November 16          San Diego
Tuesday, November 19          Morehead State
Sat.-Sun., Nov. 23-Dec. 1      at Puerta Vallarta Tournament
Saturday, December 7             at Tennessee-Martin
Sunday, December 15             Tennessee-Chattanooga
Wednesday, December 18      Hampton
Saturday, December 21           Navy
Friday, December 27              at North Carolina
Monday, December 30           at Florida Gulf Coast
Wednesday, January 1            at Stetson
Saturday, January 4                Jacksonville
Monday, January 6                North Florida
Thursday, January 9               at South Carolina – Upstate
Saturday, January 11              at East Tennessee State
Thursday, January 16             Mercer
Saturday, January 18              Kennesaw State
Friday, January 24                  Lipscomb
Thursday, January 30             at North Florida
Saturday, February 1              at Jacksonville
Thursday, February 6             East Tennessee State
Saturday, February 8              South Carolina – Upstate
Thursday, February 13           at Kennesaw State
Saturday, February 15            at Mercer
Friday, February 21                at Lipscomb
Thursday, February 27           Stetson
Saturday, March 1                  Florida Gulf Coast