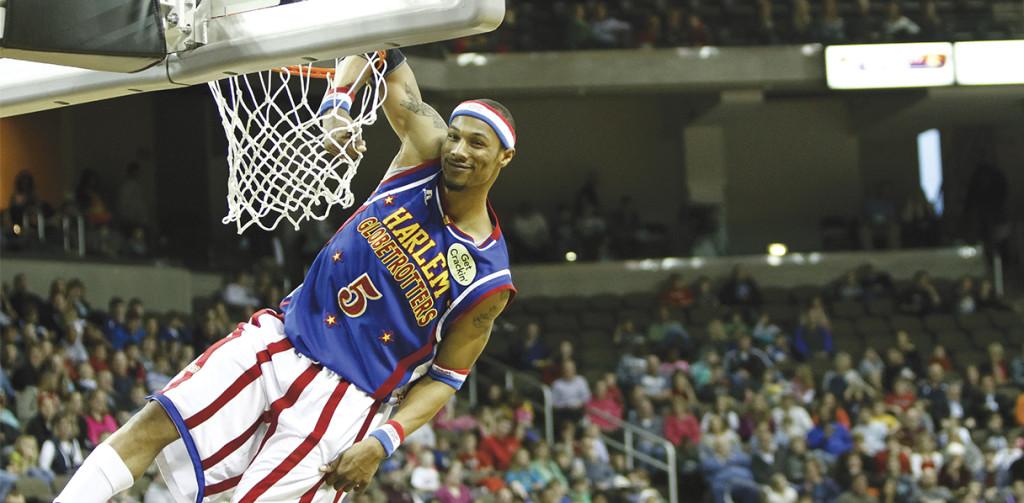 Kody Kahle
The world-famous Harlem Globetrotters brought their game along with humor to The Bank of Kentucky Center against Global Select last Friday in a championship match-up.
Northern Kentucky University was host to one of the stops on the "You Write the Rules" World Tour. The game was one big performance that even the referees were a part of.
The Harlem Globetrotters want to "create memories that last a lifetime," said Slick Willie Shaw, a member of the team.
For the first time ever in the Globetrotters' history, the fans had the opportunity to choose the rules for each quarter of the game. On the Harlem Globetrotters' website, fans were able to choose from five different rules that affected the outcome of the game. The choices for the rules were using two basketballs, double points, four-point shots, a penalty box or having six players against five.
For the first quarter, the rules were changed to include four-point shots. The court had four green circles that were 12 feet behind the three-point line and 35 feet away from the basket. The four-point circles were a hotspot for Firefly, #3.
Throughout the game, the team brought fans onto the court, from young children to adults.
Deedra Derrick of Highland Heights, said she liked the fact that the Harlem Globetrotters "brought people out from the audience."
Special K, #21, was the center of attention throughout the game. He started almost all of the skits and made fun of one of the referees throughout the game.
In the second quarter, points were doubled. During the quarter, Special K went into the seats where the fans were sitting courtside, and took a woman's purse.
The Globetrotters ran around the court with it and even gave it to one of the players on the other team. After they had fun with the purse, Trisha got her purse back inside a gift box from Special K and Too Tall, #7.
The Globetrotters' antics continued when one of the players climbed and sat on top of the backboard of Select's basket and blocked one of their shots by kicking the ball into a crowd. Bob Kuebem, a fan at the game, said his favorite part was when a Globetrotter "jumped on the top of the basket."
Two basketballs were used during the first two minutes of play during the third quarter. The balls were pink, in order to raise awareness for breast cancer.
Throughout the event, the Globetrotters sold bracelets. The money raised went to the Susan G. Komen Foundation.
In the fourth quarter, the four-point basket rule was repeated.
Firefly and Flight Time were standouts during the final quarter and helped the Globetrotters to take a commanding lead which they held until the end.
Tracey Krepps from Maineville, Ohio said her favorite part of the event was "Seeing the smile on my son's face. His smile! His laughter!"