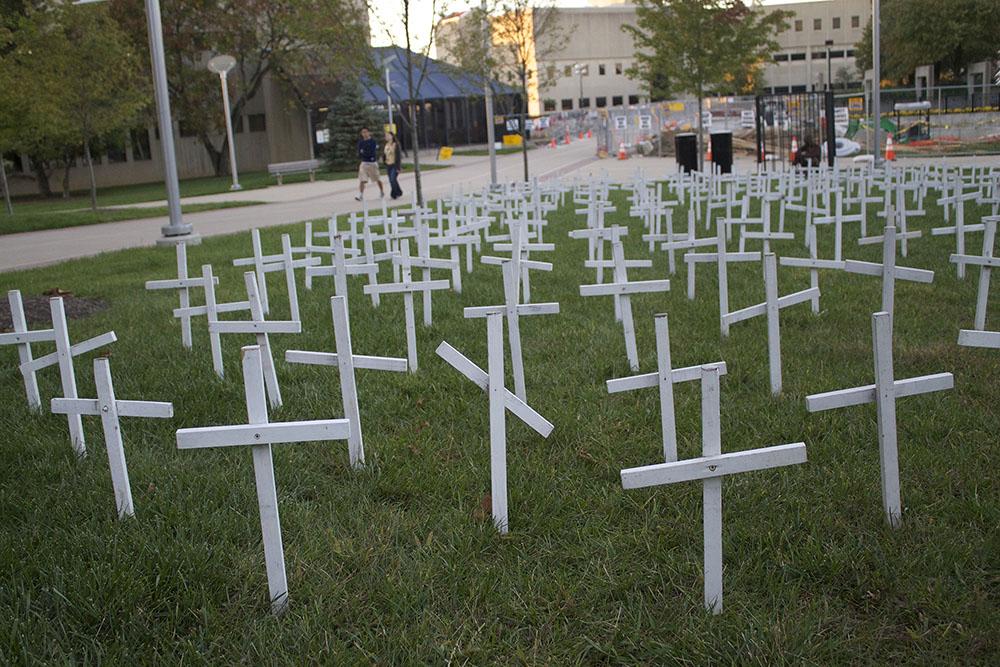 Derek White
On the morning of Wednesday, Oct. 9, a part of the anti-abortion display located in the center of campus disappeared.
The display, hosted by the organization Northern Right to Life, originally had included multiple signs and a collection of white crosses, which represent the lives lost due to abortion, according the Northern Right to Life.  For the day as one looked out on to the area where the full display once sat, only crosses remain.  The signs have since been replaced and now double the original amount.
The display, or at least the crosses, which are put up each year by the Northern Right to Life, have become a common display on campus.  However, many students haven't yet realized the signs went missing.
That doesn't make it right, though, according to junior music major Kevin Snyder.
"It's kind of out there for everyone to see and there are various opinions about abortion but all and all, I really don't think it's their [other students'] right to take that down," said Snyder.
While the display is protected by freedom of speech on campus and shouldn't have been tampered with, music major Andrew Pearson feels that there is "double standard."
"Because this is under the idea of religiously moral things, it's thought to be more correct.  If people were to do the pro-choice thing, it would probably be chastised, probably more heavily on than what's been going on here.  People would probably respond violently, less in protest but actually being destructive about what they are doing." said Pearson.
While there are indeed widely varying opinions of the hot ticket subject of abortion, according to philosophy major Philip Johnson, when someone disagrees about a subject with another, rather than tampering with the display, people should find common ground with their words.
"In certain words there is power," Johnson said.  "Some people associate that to religious beliefs but it could be philosophical, theological or otherwise.  There's many ways of saying that and many people have said it on different sides of the fences.  I don't like the fences; I try to make a bridge and tear the fence down because that's how we learn and grow."
While Northern Right to Life wasn't available for immediate response, his is not the first time the display has been tampered with in the displays history.  On April 12 of 2006, an NKU professor brought her class to the display. With a small group of the students from the class, the professor pulled the crosses from the display out of the ground.
On the other side and more recent, a local pro-life group had an abortion protest on campus on September 20 featuring a controversial display called "Created Equal," which featured graphic photos of unborn.
The Northern Right to Life displays can be found in the center of campus outside of the third floor entrance to the Fine Arts building.