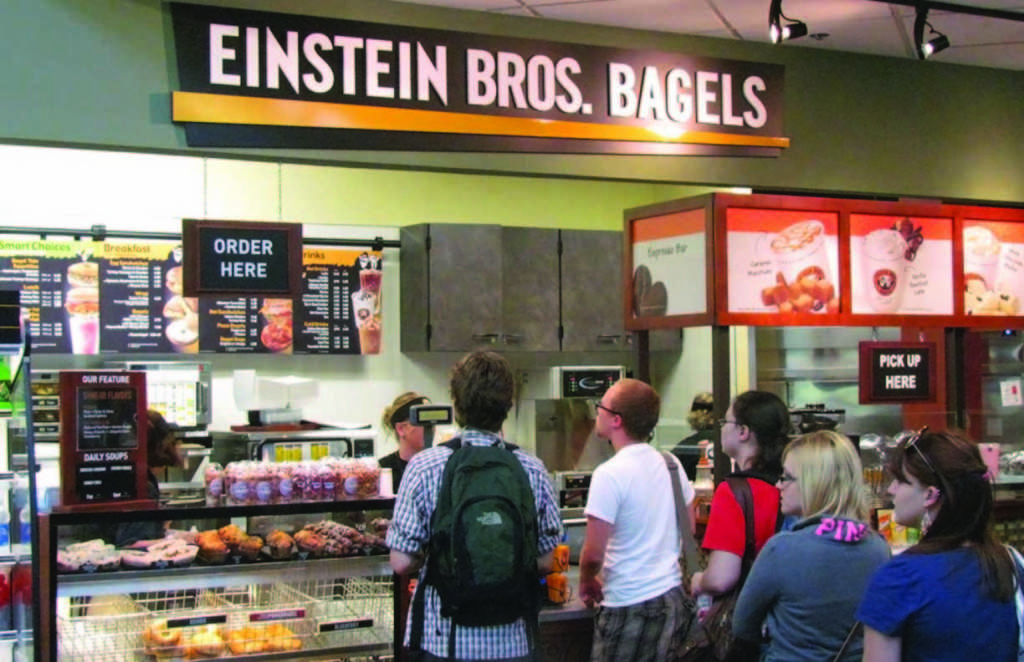 A new place for students to eat is now open in the Steely Library atrium this year. Einstein Bros. Bagels, was built over the summer and has replaced Steely Cafe.
"The area developed over time and got to the point that it is a high traffic area and got to where we are now," Director of Business Operations and Auxiliary Services Andy Meeks said. "We worked with Chartwells to see what they recommended and it was a pretty significant upgrade."
Einstein's offers a variety of options including bagels, sandwiches, salads, coffee and espresso drinks. The brand has a breakfast program as well as healthy options.
As opposed to Einstein Bros. Bagels, Steely Cafe was not a brand and offered a hodgepodge of items, according to Chartwells Resident District Manager Melissa Pompa. After time, food options were added to the cafe, but it was not a branded chain.
"The operation was never built for what it became," Pompa said. "We wanted to build a place that could serve the people there. There are not many areas in the middle of campus to get a full meal."
Pompa said that Einstein's is at a lot of schools that Chartwells caters to so she knew it would be successful. Another reason it was chosen is because the brand does not require a lot of equipment and it worked well with the space restrictions. Also, Chartwells conducted surveys to get feedback from students on what they wanted in food choices and Einstein's met those desires.
The construction of Einstein's was a joint venture between NKU and Chartwells. Preparatory work was done in the area along with construction of Einstein's. New flooring and furniture were also added to the atrium.
According to Meeks, the project cost the university around $300,000 and the cost was split between NKU and Chartwells. Not included in this amount is the furniture that was added later to the area.
Samantha Dewar, a junior international studies major, likes what has been done to the area.
"It is more colorful and less depressing," Dewar said. "It feels more welcoming."
Alex Shaw, a senior criminal justice major, said that Einstein's was quality food at a reasonable price. He said the service was slow, but attributed that to being a result of Einstein's being new as well as getting there at a congested time.