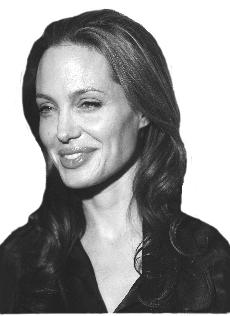 AP Video: Jolie leaves Vietnam with newly adopted son
Assoicated Press Video Click here to watch video.
Here's some "Stuff" about singer-actress Hilary Duff: She admits the mass amount of weight she lost two years ago was partly due to pressure from the media. "I did get skinny," she told Britain's Mail on Sunday. "I've felt that pressure like everyone else in my position. When a newspaper comes out that says 'Duff Puff – she must have gained 15 pounds' or something like that, how would any normal person react?" The 19-year-old continued, "It's so mean, but everyone keeps buying that stuff and talking about it, so it's not going to go away." Angelina Jolie is adopting yet another kid. That's right. I mean, adoptive parents should be applauded, but Jolie's on No. 4. The actress flew to Vietnam recently to complete the procedures necessary to bring her new 3-year-old son, Pax Thien, back with her to the United States, the Associated Press reports. She is expected to leave Vietnam March 21, according to the AP. When Pax, whom Jolie adopted from the Tam Binh orphanage in Ho Chi Minh City, crosses the Atlantic, he will join his new siblings Maddox, 5 (who accompanied Jolie to Vietnam), Zahara, 2, and 10-month-old Shiloh, as well as Jolie's partner, Brad Pitt. Yeah. Angie's partner in her diabolical plan to infiltrate every country in the free world with adopted representatives of each nation. That's right. Get ready for the Brangelina take-over. Actor Christian Slater, 37, may not be singing the blues anymore, Star Magazine reports. Slater was blue when his last marriage ended six months ago, but he may have found someone new to duet with. Still in London after starring in a West-End production of "One Flew Over the Cuckoo's Nest" last fall, Slater has been seen with Imogen Webber, the 29-year-old daughter of Phantom master Andrew Lloyd Webber.
Quote of the Week: "That was a trippy experience. That was why I was completely glassy-eyed." -Justin Timberlake on when he appeared on "Punk'd" in 2003. (Star Magazine)