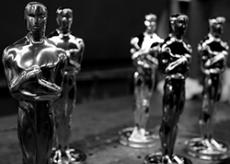 Charles Rex Arbogast
The musical "Dreamgirls" led Academy Awards contenders Tuesday with eight nominations, but surprisingly was shut out for best picture, positioning the ensemble drama "Babel" or the mob saga "The Departed" as potential front-runners.
"Babel" was close behind with seven nominations, including best picture and acting honors for two newcomers to U.S. audiences, Adriana Barraza and Rinko Kikuchi. "The Departed" had five nominations, among them best picture, a directing slot for Martin Scorsese and a supporting-actor honor for Mark Wahlberg.
Other best-picture nominees included Clint Eastwood's World War II spectacle "Letters From Iwo Jima," the road-trip comedy "Little Miss Sunshine" and the monarchy-in-crisis chronicle "The Queen."
Going into nominations day, the best-picture competition looked unusually wide open, with no consensus on a favorite. With Golden Globe musical winner "Dreamgirls" out of the running, the race could come down to Golden Globe drama winner "Babel" and "The Departed," though "The Queen" could be a dark-horse contender, as well.
Front-runners in all four acting categories nabbed nominations and seem poised to come home with Oscars on Feb. 25: Helen Mirren for best actress as British monarch Elizabeth II in "The Queen"; Forest Whitaker for best actor as Ugandan dictator Idi Amin in "The Last King of Scotland"; and Eddie Murphy and former "American Idol" finalist Jennifer Hudson as soulful singers in "Dreamgirls."
Alejandro Gonzalez Inarritu and Martin Scorsese were joined in the best-director category by Eastwood for "Letters from Iwo Jima," Stephen Frears for "The Queen," and Paul Greengrass for the Sept. 11 docudrama "United 93."
Prim Oscar voters maintained their track record of ignoring over-the-top comic performances, snubbing Sacha Baron Cohen for his Golden Globe-winning role in the raucous "Borat: Cultural Learnings of America for Make Benefit Glorious Nation of Kazakhstan." Cohen shared an adapted screenplay nomination for the largely improvised "Borat," though.
Three of the eight nominations for "Dreamgirls" came in a single category _ for original song.
Two-time best-picture and director winner Eastwood's "Letters from Iwo Jima" had been considered a longshot and clearly was the film that denied "Dreamgirls" its chance at the top trophy.
Assoicated Press Video
Click here to watch video.