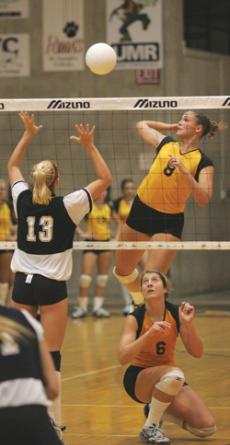 In a high-impact five-game shootout, Northern Kentucky University's Volleyball Team fell to No. 19 Southern Illinois University Edwardsville Oct. 6 in Regents Hall.
NKU sophomore Kristina Eisenmenger led the Norse with 23 groundbreaking kills in the loss to the Cougers 35-37, 27-30, 30-23, 30-26 and 15-8.
Juniors Liz Holmes, Tristen Dye and Eisenmenger came together for a combined 55 kills that helped NKU grab the first two games of the match. Dye racked up 17 kills on the day while Holmes collected 15.
After taking the first game 37-35, NKU dug deep and rallied behind Holmes as she brought down the house with back-to-back kills and a game two victory.
Holme's kills brought the crowd to its feet and set up a possible sweep for the Norse against the nationally ranked Cougers.
NKU seemed to have the game in the palm of its hand until SIUE caught fire in game three and never looked back.
The tempo of the fourth and fifth games was clearly different from the first three games. While the teams were tied at 20, SIUE blew game four wide open with hard-hitting kills and four Norse errors that were vital in the loss.
The Cougars then took that momentum and exploded in game five, taking the game 15-8 and clinching their ninth straight Great Lakes Valley Conference victory improving SIUE's record to 18-4 overall, 9-0 in the GLVC. With the loss, NKU dropped to 12-10, 6-4 in the GLVC.
Some were skeptical of how NKU would bounce back after a heart-breaking battle the night before, but NKU took all skepticism and threw it out the window as it hosted the University of Southern Indiana at Regents Hall Oct. 7.
The Norse came out firing against the Screaming Eagles and brought home a GLVC with 30-18, 30-21 and 32-30.
There was no doubt in the arena that NKU was there to make a statement. Holmes led the way for NKU with 16 kills and 11 digs.
Freshman Andrea Price contributed in the win and tallied 12 kills while going perfect in the opening game.
Southern Indiana made a strong attempt in game three until an 8-1 run by NKU stopped all hopes of pushing a game four. Senior Andrea Lanham ended with 43 assists in the sweep and 113 total on the weekend.
Freshman Lindsey Zumdick came through with clutch serves, four being aces and also digging out nine powerful shots by the Screaming Eagles.
After the commanding league victory, the Norse improved its record to 13-10 overall, 7-4 in the GLVC. Southern Indiana falls to 13-7 overall, 4-4 in the GLVC.
NKU puts conference play on hold and hits the road to play Ouachita Baptist University and Christian Brothers University. The Norse will hop back into conference play Oct. 17 against 8-7 Bellarmine University.