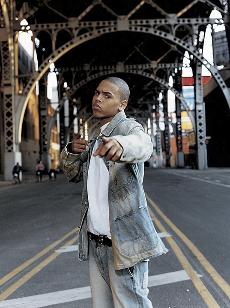 Photo coutesy of Jive Records
Northern Kentucky University is all set to host its first concert with a mainstream artist since the Nappy Roots performed on campus in spring 2003.
Headlining this concert will be Rhythm and Blues star, Chris Brown, who has had such hits as "Run It!" "Yo (Excuse Me Miss)," and "Gimme That." Dubbed the next big R ' B superstar, following in the footsteps of Usher, this young man has all the talent and staying power needed to take the R'B world by storm.
Brown's self titled debut album, released Jan. 12, 2006, takes listeners on a trip through the innocent blissfulness of teenage love.
The young R ' B crooner will bring along another newcomer, T-Pain, for his opening act. T-Pain another performer who seems fated to become a music heavy-hitter is the artist behind hits like "I'm Sprung", and "I'm in Luv (Wit a Stripper)."
These two musical talents will be joined by a few other artists from Loud Box Records and Break Bread Records, and NKU's own Ebony Fire Dance team. The Ebony Fire Dance team is led by its captains Joslyn "Nique" Ruffin and Dondra Collins. Its members include Nish Vise, Shanita Strayhorn, Michele White, Charaya Wagner, Kanita House, Tiffany Taul, Toya Maley, Japera Bell and Priscilla Green. Ruffin said the whole team is delighted at being on the stage with these performers. She and her teammates have been vigorously practicing since earlier this year. This team is a testament to the talent inherent in NKU's own students, and they have already won two awards. The team also held two on campus events/fundraisers, and are in the process of cementing themselves as a part of NKU's student life.
The current music programmer for NKU is the engine behind this concert, Sheena Dunn, said she wanted to sponsor the event because she was eager to have another big name artist perform. Dunn admitted this was not only her project, but a joint effort of herself, the Activities Programming Board, and Stephanie Goldrick.
The concert will be held in Regents Hall on campus. The doors open at 7:15, with activities starting at 8 p.m. Tickets are $15 for all NKU students (limit of 2 per student with a valid NKU ID) and $20 dollars for all others. If you would like to purchase tickets, please visit the office of Student Life, University Center Room 10.