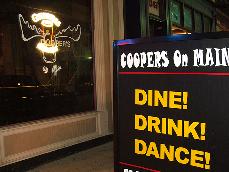 Nicole Jones/Photo Editor
Located in the northern part of Over the Rhine, Cooper's on Main offers what every bar enthusiast is looking for: a laid-back vibe, tasty food and drinks – all while providing great music. The atmosphere and the people make it feel like a neighborhood bar where everyone knows your name.
Cooper's on Main is a staple to Cincinnati's Main Street bar district. The main focus of the front room in Cooper's on Main is the bar and understandably so; the dimly lit atmosphere compliments its dark wood.
The d