Norse men split games over break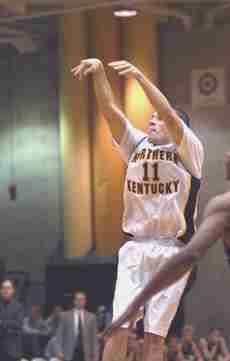 Mike Kelsey scored 20 points in a losing effort for the Norse.
EVANSVILLE, Ind. – Randy Holbrook scored 28 points, grabbed 12 rebounds and made a pair of key free throws late in overtime Jan. 8 as Southern Indiana posted an 87-82 win over Northern Kentucky University at the PAC Arena.
Southern Indiana (9-3 overall, 6-1 Great Lakes Valley Conference) used 7-for-10 shooting from the free-throw line in overtime to hold off NKU. Holbrook, a 6-foot-9 senior who scored five points in overtime, made two free throws with 11.7 seconds left to give the Screaming Eagles an 87-82 cushion.
Harrison Morton led NKU (6-7 overall, 3-5 GLVC) with 21 points on 9-for-11 shooting from the floor. Morton's basket tied the game at 81-81 with 1:46 left in overtime, but Richburg countered with a driving layup to give Southern Indiana an 83-81 lead.
Trailing 83-81 with less than a minute remaining, NKU had possession with a chance to tie or take the lead. NKU's Derek Smith attempted a three-pointer, but the shot was off target and rebounded by Thompson.
The Screaming Eagles then hit four free throws in the final 22 seconds to seal the victory. Mike Kelsey scored 20 points for the Norse, and Smith added 12.
NKU has not won a regular-season game in the PAC Arena since the 1994-95 season, when the Norse rallied for a 96-90 victory over Southern Indiana. NKU hosted UC-Clermont at 7:45 p.m. Tuesday in Dave Bezold Bobblehead Doll Night. The first 1,000 fans in attendance Tuesday night received a bobblehead doll of Bezold, who is in his first season as NKU head coach.
ST. LOUIS – Kevin Reinhardt stopped a prolific scorer in the second half Jan. 6, and, in doing so, the sophomore forward also helped halt Northern Kentucky University's four-game losing streak.
Reinhardt, a sophomore forward and a graduate of Campbell County High School, held Missouri-St. Louis forward Jonathan Griffin to just two points in the second half as NKU rallied for a