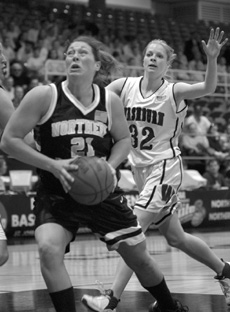 Tim Downer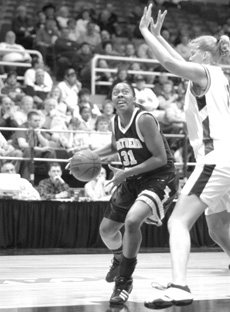 Tim Downer
Since NKU's womens basketball team stepped off the court on March 29, minutes after their 65-50 defeat to South Dakota State in the National Championship game, Coach Nancy Winstel has worked extremely hard to bring the Norse back to glory in 2004.
The real prepwork began in September, when the first bells of the school year rang, and the women that make up this years team stepped into the weightroom for the first time. Then, of course was Oct. 15 – the first day of organized practice as allowed by the NCAA. Between now and March 7, when the NCAA tournament pairings are announced, the team will have a lot of twists and turns on the road to the championship. "We're getting better and things are starting to come together." said Winstel. "We are very, very young, and the ability to retain some of the new things is going to take some time. But our players are all working hard."
The 2003-04 schedule will not begin with cake: A tournament in Florida from Nov. 20-22, followed by a face-off with Findlay on Nov. 25, and then conference play against Missouri St. Louis (Nov. 29) and GLVC favorite Quincy (Dec. 1). "We have a very tough schedule. Every game is going to be very difficult for us because of our youth."
The Norse, picked to place 2nd in the GLVC, will rely on their lone seniors, forward Jessica Brock and center Emily Phillips. Brock only scored 5.5 points a game, but was a key factor in all 34 of the games she played.
Says Winstel, "Jess is a very solid shooting forward, and I anticipate she is going to see a lot of playing time. She has a lot of experience and versatility, and I think she will be a solid performer for us this year."
The juniors are Cleveland State transfer Nikki Perkins, Elizabeth Burrows (34 starts, 5.5 ppg, 3.4 rpg last year), Connie Myers (11.3 ppg), and Sarah Woods, a transfer from Presbyterian College in South Carolina. "Elizabeth is very solid at the point guard position for us. She started every game for us last year, allowing her to gain some valuable experience." Leading up the Sophomore class are Augusta State newcomer Julie Robbins and returnee Sharell Snardon (9.9 ppg), who has recovered nicely from receiving three broken teeth in the NCAA Tournament last year. "Connie Myers and Sharell Snardon have some great experience in the post," Winstel said.
And then, there are the freshman. Glen Este grad Sam Riley, who moonlighted the womens soccer program this fall, Betsey Clark from McNicholas, Karyn Creager from Patrick Henry in Leipsic, Ohio, who was named to the second team all state in Division II last year, Quanita Haley, who passed over a scholarship at Miami of Ohio to come to NKU, and Karmen Graham, who earned all-Western Ohio Conference honors as a junior and senior at Dayton Fairmont. "Karmen Graham and Emily Phillips will both be solid backups in the post," according to Winstel.
Winstel also added: "Our shooting guard is a question mark for us right now … Nikki Perkins, Sarah Woods and Karyn Craeger will be the three possibilities for us at that position. Julie Robbins can come off the bench and hit the three."
For the most part, Winstel is happy with the teams progress and is enthusiastic about her teams chances. "Right now I don't think that there is anyone on our team that isn't going to help us. All 12 players on the team are working hard. Right now we're just starting to put together different combinations to see what we can do once we start playing. Right now we are just trying to be as competitive as we possibly can."
Consistency will be the main factor if the Norse are to win the GLVC, the region, and most importantly the national title, which the team claimed in 2000.