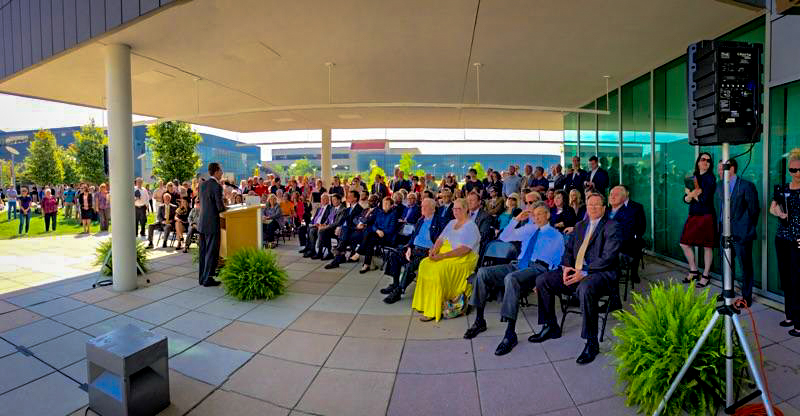 Lexi Vogt
A long, steel, bright yellow beam sat before the NKU campus community. Signatures from students, faculty and staff were scribbled over the yellow paint before the beam was lifted atop the structure that will be the Health Innovation Center.
The campus community came out on Thursday to celebrate the NKU Health Innovation Center's 'Topping Out' ceremony.
The ceremony began with members of the NKU community signing the beam,  signifying the start of the next phase of construction on the Health Innovation Center.
President Geoffrey Mearns made a few remarks about the $97 million  project before the beam was set into place.
"The Health Innovation Center will support an integrative portfolio of programs to prepare healthcare professionals and provide real solutions to the population's health and wellness challenges of our region," Mearns said.
According to Tim Walsh, project manager for Turner Construction, 20 percent of the construction process is complete.
NKU has made efforts to engage with the surrounding community. The Health Innovation Center has fostered  a partnership with St. Elizabeth Healthcare.
St. Elizabeth made an $8 million investment towards simulation labs, an innovative feature of the up and coming facility. The Health Innovation Center has already created an expectation among St. Elizabeth healthcare professionals in the  advancement of disease prevention.
Sarah Giolando, senior vice president and chief strategy officer at St. Elizabeth Healthcare, said she and her colleagues are trying to engage the community in thinking about disease prevention.  
"We really need to rethink the model of healthcare and I think the Health Innovation Center has designed itself just to do that," Giolando said. "I think bringing together all of the disciplines under one roof –having people collaborate is going to produce how we can really transform our community into a healthier one."
Sean Foley, an NKU alum and a professor in Construction Management  said the facility will promote community awareness about disease prevention while providing a new, innovative space for students to learn.
"Anytime we can get more class space on campus it's fantastic… We have the whole idea of integrative studies and bringing all programs together- We have NKU students building NKU," Foley said.
The crowd from the ceremony watched as the signed beam was raised and then lowered into place, finalizing the event and welcoming the next step in creating what is expected to be the "best building on campus," according to Walsh.
Walsh said the construction process is on schedule.
"It is a great design," Walsh said. "I think it's going to really be an asset to the University. I think it's going to be a building that attracts a lot of students.
"It's going to help the whole NKU community as far as having a building of this stature- It's really going to be an amazing project. It is something everyone is going to be proud of," Walsh said.
The Health Innovation Center is scheduled to be ready for use in Fall 2018.