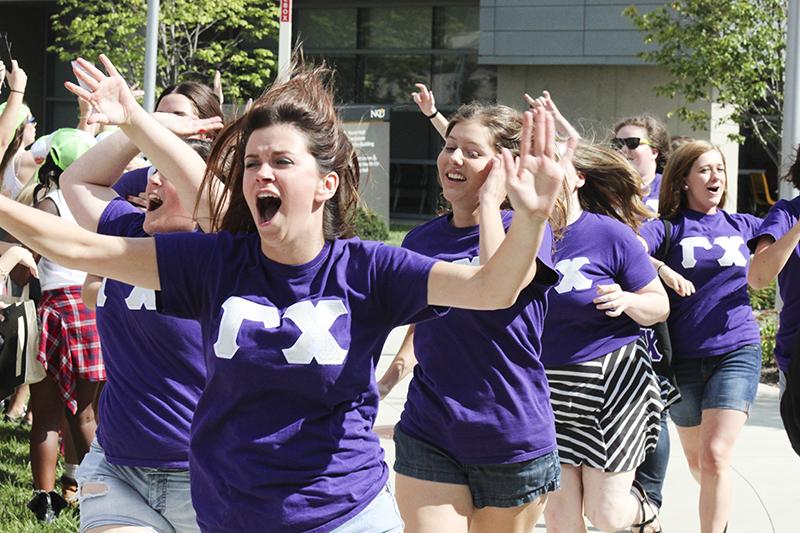 Photo by Heidi Rink
Chairs bump in the Student Union as they bounce up and down, clutching tightly their white envelopes that will reveal their future family. They swing their legs and toss their hair impatiently, whispering their excitement and nervousness to their neighbors.
As it gets closer to the reveal, the women get more and more restless.
"I'm really nervous and I'm really excited,"  Taylor Morrison freshman said. "But I know no matter what happens I'll end up where I'm supposed to be."
Morrison said that coming from a family with five brothers, she always wanted to have a sister. Freshman Elizabeth Gieske felt the same way who said she thinks a sorority is the perfect place to find a big sister.
Taylor Osborne, member of Alpha Omicron Pi, said she likes all NKU's sororities because of their panhellenic spirit.
"I love the sororities on campus," Osborne said. "We're all phenomenal women, we're all phenomenal leaders."
Outside on the Griffin lawn, sisters chant at the top of their lungs and scream shrilly. They wear flowered headbands, sport paper sailor caps and wave arms covered in gold glitter. They raise their voices in chants and screams, shouting their enthusiasm to welcome their future sisters home.
Back inside, the girls rip open their envelopes, screaming and squealing because they finally know where they belong. They dance around and grab each other in hugs, then prepare to join their sorority sisters outside.
"This is so huge and it's so hard to make friends, so I really wanted to find a family and find a good network of friendships that I can connect with," Morrison said.
Kim Vance, director of Sorority and Fraternity life said that it's kind of like Harry Potter with a sorting hat and that she really enjoys watching the process unfold.
"The girls ran out and hugged us and cried…" Osborne said. "It's just pure craziness because it's these girls finding their sorority home, their family."
Gieske said Bid Day makes the entire recruitment process worth the wait.
"It's almost like you're trying to find a family all week and then everything comes together on the last day," Gieske said. "You feel so good and you're joined with your sisters."