'I found myself': Being transgender at NKU
October 5, 2016
She tears open the small wrapped package, eager to see what's inside. The lime green iPod Nano is accompanied with Taylor Swift's "Fearless" album. She grins from ear to ear, thinking about the feel good tunes she'll be listening to later.
She had no idea that years later the present that granted her an amazing Christmas would bring back unsettling, wistful feelings.
At the time she knew something wasn't quite right, but she wasn't ready to transition just yet.
Hunter Howard, a sophomore political science major, said listening to the throwback songs of Taylor Swift take him back to the seventh grade, back to before he began transitioning. Back to when he was a girl.
"I'll get put back in that place," Howard said. "I got put in the mindset that I was a girl. It's just such a weird shift."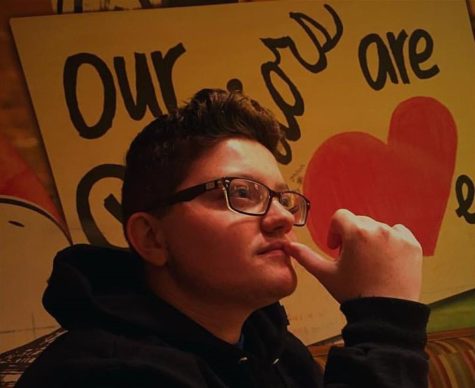 From 'her' to 'him'
During his sophomore year of high school, Howard, a lesbian at the time, began to realize he was transgender. However, he repressed himself and instead acted feminine and girly.
"I would always snoop in my brother's closet to steal his clothes to dress more boyish," Howard said.
When he came to NKU during the spring semester of last year, he finally came to terms with being transgender. Now, he identifies as a straight male.
"People will say, 'You're transgender, you're a dude stuck in a woman's body,'" Howard said. "I've gotten out of that mindset. No, I'm not a dude stuck in a girl's body, I'm a dude in my body. This is my body."
When transitioning, Howard said there was a lot he wasn't expecting, especially the mental aspects.
"My physical transition hasn't fully started for me," Howard said. "There's a lot of inner transition that I wasn't prepared for. I thought 'Oh, I'm going to accept it and get on hormones then it's going to be done.' I was not ready for the onslaught of inner change that had to happen."
Howard had been in the lesbian community for 4-5 years and says switching to another community can make it difficult to find yourself.
"If you've known me my whole life it probably made sense, but it was really hard to make," Howard said. "You're out of one community and in another, but you're not sure where you stand in the community and it's all new."
Fighting the ups and downs
Because men socialize differently, Howard has had to learn the quirks between men and women.
"I've always hung out with girls, not just because I like them, but because I was raised as a girl, so I socialized as a girl," Howard said. "A man's habits are weird, they stand and move differently.
"It's been a lot of people watching and studying what they do, and, not that there's anything wrong with this, but I probably come across as a gay man. I've just always been around girls. It's still a process, and I'm learning. It's a hard step."
Being transgender has been a long journey for Howard, and he said it has been confusing at times. But he knows that his future will be better now.
"There are good days and bad days," Howard said. "I know there will always be bad days, but in the future there will be less of them and I know 800 percent that they will get better. I don't feel as caged and I don't hate myself. I found myself."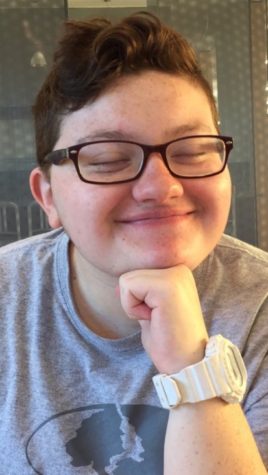 Howard used to have bad weeks and even months, but now it's turning into shorter amounts of time and eventually he believes there will be none.
Howard said it starts when someone sees him for something he's not.
"So, I'll start thinking, 'Maybe you're wrong about this,'" Howard said.
"You'll never actually be a guy, and this is all just in your head."
"You're being stupid."
When that happens Howard turns to his habits and supporters for comfort.
"I either write some songs, play some instruments," Howard said. "I'm like your typical dude — I'll play some video games, kill a bunch of stuff. If that doesn't work I'll hang out with my girlfriend or best friend. I'll text my [sorority] sisters and get Cloud Nine and jam out in the car. Sometimes it also takes sleep, just waking up and starting over."
Feeling safe and finding a home at NKU
While only being in his sophomore year, Howard has found NKU welcoming and sensitive to all the people on campus.
He is currently a Presidential Ambassador, a student organization that participates and provides support for campus events, and was in Alpha Omicron Pi, where he formed close knit relationships.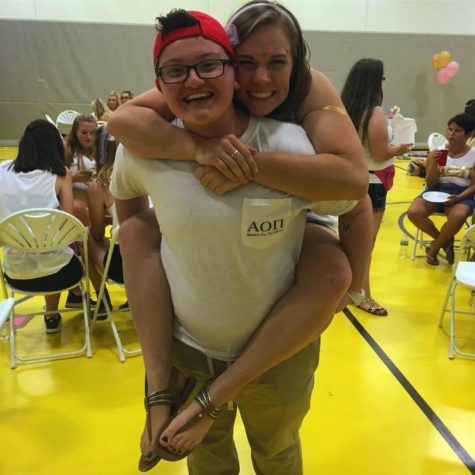 "They are 800 percent completely accepting," Howard said. "They are my best friends in the entire universe. All of my friends here are completely supportive and especially my girlfriend. My family is a different story."
While he currently resides at NKU, Howard grew up in Anderson County, Kentucky.
He loves his home, his parents and his dogs but says it can sometimes be hard going there. His hometown is very traditional and rural.
"Coming here I feel very safe, and it's a stark contrast," Howard said. "I've never fully felt safe in my hometown, which is one of the reasons my parents were worried about me coming out."
Howard said going home can be a little complicated, but he makes sure to keep doing so because he loves his family. He hopes that they will be more supportive.
"Most of my family weren't supportive of the lesbian thing either," Howard said. "My mom is working on it, and I feel like my dad and brother will come around. The rest of the family; not much will change. One side of my family is a little more open to trying to still be okay with me. Then the other side I'll always only ever be my old identity."
Howard said being called his old name can be upsetting and being home is too much of a reminder of his past self.
"I haven't been dead named, being called my birth name, in forever, like only a few times at NKU, accidentally, and people will correct themselves," Howard said. "So, to live fully as myself here and then go home it's a little complicated. I think that eventually it'll work out. I'm trying to pressure my mom into calling me my name."
One of the biggest surprises this semester for Howard was the kindness from his professors after emailing them to inform them of his name, which was different from the roster.
"At first I thought it was a liability that they were being so nice but they were genuinely so kind and receptive," Howard said. "One of my professors every day, when he calls roll, he says everyone's last name but then when he gets to mine he makes a point to say Mr. Howard. I'm like that's me. I appreciate it so much."
Professor Bruce McClure, Howard's civil law class instructor, said the reason he does that is so Howard feels comfortable.
"I'm so impressed with how Mr. Howard handles the class, since we talk about a wide variety of things from the LGBTQ community to recreational drugs," McClure said. "He has a bright future."
Being an inspiration to the community
Without being in Alpha Omicron Pi and Presidential Ambassadors, Howard wouldn't feel like NKU is home.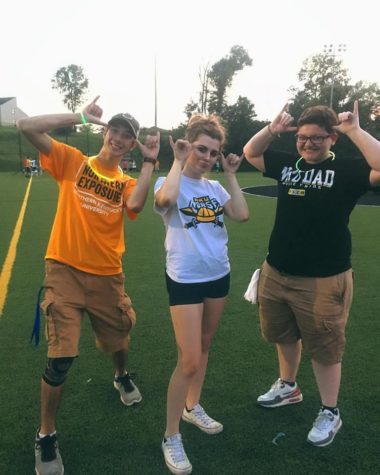 "I hear a lot of 'you're always yourself' from my sisters, and it's really great to hear that and makes me feel more comfortable," Howard said. "I came into the sorority acting really girly because that's what I thought I had to be, but then getting to know my friends, I realized I could be myself.
"Now we're starting to see, on this campus, the definition of a sorority woman change," Howard said. "I feel like I introduced my chapter to a woman who doesn't fit that stereotype."
Bailey Fox, an undeclared sophomore and Howard's sister in AOPi, said that she was waiting for him to open up and tell her.
"When he finally did, I was so proud," Fox said. "I cried because I was so proud. I was like that's my best friend. Ever since then he's doing so well handling it and opening people's minds more."
Being a part of Presidential Ambassadors, Howard also tries to inspire people to be themselves.
"I feel like if I'm unapologetic to who I am, the people around me can be unapologetic to who they are," Howard said. "I feel like this is the place that has made me more comfortable to be who I am. Now I can give back to them."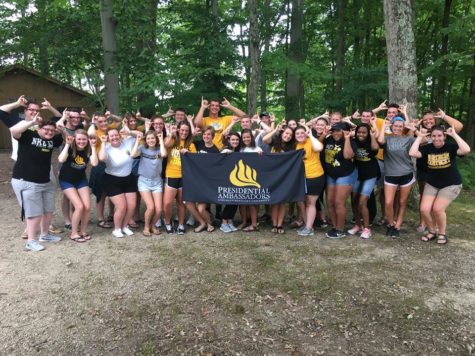 One of Howard's favorite parts about being in PA is getting to give a new perspective to students.
"I get to show them this a place where you can be who you are. You can feel comfortable here," Howard said. "The greatest thing about NKU's campus is we come from so many different backgrounds.
"We can be ourselves without judgement, no matter what surrounds NKU. NKU is its own world, where you can be whatever you want to be."