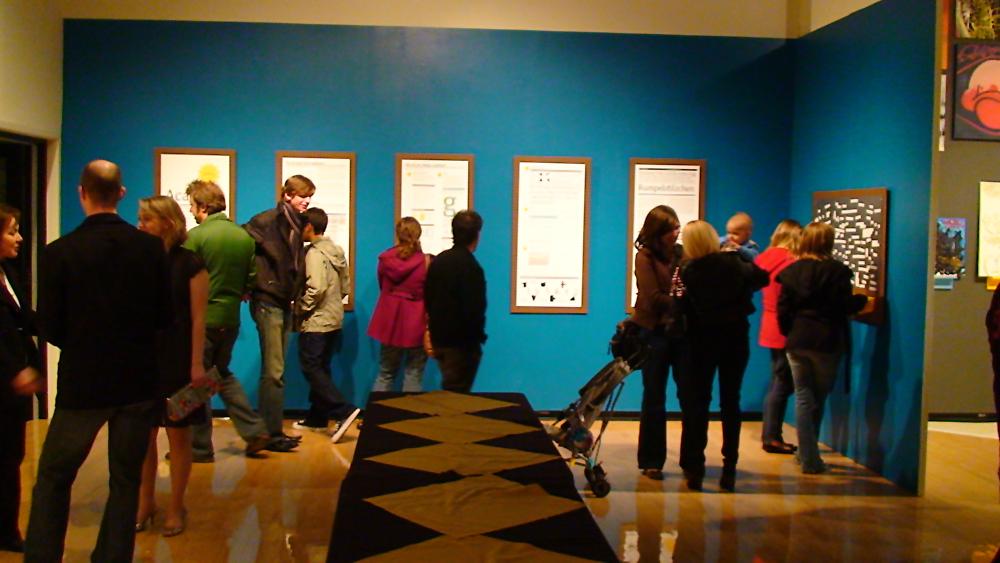 Joe Castelli/Web Editor-in-Chief
The Senior Art Exhibition is taking place from November 12-20 at the Northern Kentucky University Fine Arts Center. The exhibit features original art work of seven senior Bachelor of Fine Art candidates, and is a requirement for all students majoring in the various visual art disciplines.
Although the exhibit is a method to showcase the university's artistic talent, it also serves as a means for the seniors to be professionally critiqued by a committee of art faculty members.
The seniors being exhibited include: Amanda Verrette A graphic design major originally from Lexington, Kentucky, Verrette's art is the creation of a unique type-face design called Acadiana, inspired by the expulsion of the Acadian people from Canada, who then resettled in Louisiana during the 18th century. In designing the font style, Verrette gained inspiration from various type styles from modern times and throughout history, to include ones by Johannes Gutenberg, inventor of the first printing press. 'A big area of graphic design is type-face design,' Verrette said. 'It is an area of expertise that no other profession does.' Rebecca Wilson A graphic design major originally from Milan, Indiana, Wilson's art focuses around the idea of Information Design, which is a technique used to visually represent data. Through a series of posters, Wilson portrays the steady increase of social networking sites, on both the national and global scale. The display is intended to show just how much one depends on the sites to connect with friends and family. 'As you can see, there are an incredible amount of social networking sites I represented in these charts,' Wilson said,'but this is not even the tip of the iceberg – there are tons more.' Keith Richter A printmaking major, originally from Alexandria, Kentucky, Richter's exhibit includes the creation of prints featuring an assortment of animals, all through a process of Intaglio. In order to get the effect he wants, Richter etches the various animals into a zinc plate, where he will later coat with ink in order to make a copy in print form. The artist has been working with Intaglio for 1 'frac12; years and gained inspiration for his works by viewing the animals at the Cincinnati Zoo. Attributing the use of animals is a way to express his relationship with family, friends and even God. 'My favorite piece is the rhino, called 'Wearing my armor',' Richter said. 'I can relate to the animal because throughout life, in my insecurities, I have placed armor on to protect myself.' Jeremy Ross A graphic design major originally from Covington, Kentucky, Ross' exhibit is based on his original company, Expose, whose mission includes crisscrossing the nation, revealing local graffiti artists and showcasing their various art works. 'More and more graffiti artists are going legal,' Ross said. 'And I wanted their art to be featured in order to destigmatize the graffiti artists and their work.' As part of his simulated business plan, any money raised from the sale of the graffiti will go to benefit local youth organizations. The graphic design aspect of Ross' exhibit includes a series of posters that feature the branding of the Expose Company, and showcase the graffiti artists' background.' Natalie Brown A graphic design major originally from Cincinnati, Brown's exhibit includes the original re-branding of the Public Library of Cincinnati and Hamilton County. The exhibition includes posters, banners and letter head, all featuring a new streamlined logo. 'The original symbols of the library aren't very friendly or approachable,' Brown said. 'I wanted to make the library's brand more fun, creative and energetic.' John Overwine' A graphic design major originally from Covington, Kentucky, Overwine's exhibit is a humorous approach to package design that includes showcasing a portfolio that presents him as a packaged action figure. 'I originally thought of the idea to sort of poke fun at how we as graphic designers will have to package ourselves in order to get a job after graduation.' During the opening of the show, Overwine stands in the eight foot, larger than life package–which features his various powers and strengths–in 20 minute intervals. But during the remaining days of the exhibit, a mannequin will take his place. Kyle McGill A ceramics and psychology major originally from Cincinnati, McGill's exhibit includes 17 ceramic slab sculptures of various size and shape, gaining influence from the discipline of math called fractals, as wells as science and philosophy. 'Some of the sculptures are representations of space,' McGill said. 'There are both macrocosms and microcosms at play, representing the large, as well as tiny aspects of the cosmos.'